The following article by Rabbi Raymond Apple appeared in the Jerusalem Post on 29 August, 2023.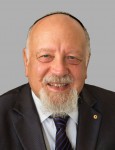 At the age of 16, I became an officer in the Australian Army Cadet Corps. I had a uniform and peaked cap and was a cadet-lieutenant. The government paid me one shilling per parade and when real soldiers met me in the street they saluted me – it was good for my vanity, but I suspect they were laughing at me too.
It was obvious that I was a mere teenager and a pupil at Melbourne Boys High School. I had joined the cadets at 13 and went to camp at a military base called Defense with the boys, though it rather shocked me to see the commanding officer striding naked across the parade ground on the way to the showers. After training courses at various places, I became a sergeant and subsequently the officer in charge of the Intelligence platoon. Initially, I thought that an Intelligence platoon was a sort of elitist intellectual program of academic study, though later I discovered what military intelligence really entailed.
In my London years, I gave occasional talks on Judaism to members of the military. I wrote articles for the Jewish services magazine, Menorah. As a student, I worked for the Association for Jewish Youth and later joined the rabbinate. There were suggestions that I become senior Jewish chaplain, though I raised no objection when that office was given to and held for many distinguished years by Rev. Malcolm Weisman OBE.
Back in Australia, I was appointed by the Defense Department as an army reserve chaplain in tandem with my Sydney Great Synagogue ministry, and I became chaplain to the Jewish veterans movement – and conducted their memorial services.
I attended chaplaincy meetings at Victoria Barracks, though I had little contact with top brass until I succeeded Rabbi Alfred Fabian as Senior rabbi to the Australian Defence Force (ADF) and became a member (and twice chairman for four successive years) of the Religious Advisory Committee to the Services – the spiritual and ethical advisory group to the Chief of the ADF.
Because I was thought to be good at words, I was often called upon to find the appropriate wording for RACS resolutions. This is how it was I who found the formula that enabled the Uniting Church of Australia to appoint its first female chaplain.
When the Jewish day school, Moriah College, needed a cadet corps commander they asked me, but I knew the role was beyond me – not that it stopped my son from becoming Cadet of the Year.
Chaplaincy gave Australia's faith communities a unique opportunity to serve the nation. But it evoked an insistent question. Did it imply approval of war and fighting?
Judging the ethics of war
My RACS colleagues and I came to the same conclusion, that our task was not to act as ethics judges who decided whether a given war was justified, but to train our troops in decision-making, planning, teamwork, and discipline, and to provide pastoral service and support to those who needed it.
I came into chaplaincy at the tail end of the Vietnam War; thereafter Australia was not engaged in bearing arms but sent small numbers overseas (including a few chaplains but no rabbis) to support its allies.
Jewish chaplaincy had its unique moments, for example sourcing kosher field rations, which entailed making contacts with the United States, where multi-faith meals were produced and supplied. I had to send a mohel to Australia's far north to circumcise the baby son of a female soldier. I had to draw up a text for a Jewish funeral service. I had to find matzot and a Seder for Jewish personnel posted to Australia's Northern Territory.
It was also my task as the only RACS non-Christian member to find an authority who could decide whether a Muslim soldier could keep his beard. What a relief it was to find that my own beard was safe!
It was my privilege to open an exhibition at the Toorak Road Synagogue in Melbourne depicting Jewish women in Australia's wartime military. When I retired from RACS I was succeeded by Rabbi Ralph Genende.