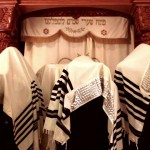 Found in Num. 6:22-27, the priestly blessing (Yevarech'cha) comes in this sidra.
It is a mistake to translate the heading Birkat Kohanim as "The Blessing of the Priests", which gives the impression that someone (the people? God?) is blessing the priests.
No: the blessing comes from God and is pronounced at His command by the priests, the kohanim.
The priests obviously deserve a commendation but so does every God-fearing Israelite.
The blessing God gives by means of the priests is both material ("bless, protect") and spiritual ("turn His face"). The balanced human being combines the material and the spiritual. That's why the blessing ends with the word shalom, which means completeness.