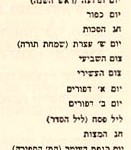 We wonder why there is such a long section in the Torah reading this week listing the sacred occasions of the year with their details of observance.
We are months away from the festivals even though it is true that there is a Shabbat every seven days and there can be no argument against inserting it in the Torah reading any week of the year. But all the chaggim? Why do we read about Pesach in the middle of the solar year? And Shavu'ot, Sukkot, Rosh HaShanah and Yom Kippur?
The purpose is not to link a particular sidra with the months of the calendar but to spell out the legal code of Judaism and the Jewish people. Otherwise you might ask why we read the civil laws of the Torah on a particular date. We are not told about the laws of servants and slaves as part of any particular date but when we come to them in the Torah legislation.