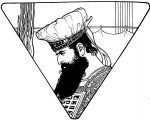 Opening the sidra, the Torah pays tribute to Aaron the high priest (Num. 8:3) who meticulously carried out the requirement set out by the Almighty.
Rashi quotes the Sifrei which says that it is a tribute to Aaron to know that he fulfilled God's command without deviating from the smallest detail.
Ramban says that Aaron had children to whom he could have delegated the task but he chose to carry out the mitzvah personally.
Another possibility is that Aaron took every mitzvah seriously and performed it with energy and enthusiasm. This is the approach which is enshrined in the meditation which we say at the beginning of many of the practices of Judaism: Hin'ni muchan um'zumman, "Behold, I am ready and willing to perform the will of my Creator".