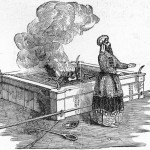 The beginning of Sefer Vayikra gives Adam a mention (Lev. 1:2). God calls Moses and tells him what to do if Adam ki yakriv mikkem (literally, "if any man of you) brings a sacrifice to God".
Rashi says we can learn from this that anyone who brings a sacrifice must be like Adam, who did not steal anybody else's property because there was nobody else on earth. Hence one cannot and must not steal something that belongs to another person and then offer it to God as a sacrifice.
The whole principle of sacrifice is that everything you have derives directly from God and must be acknowledged as such.
The important thing is not that the offering gives God a gift – does God want to be a rich property owner? – but it gives thanks to the Almighty Giver of all things.