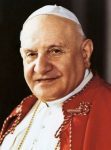 The words Joseph used when he finally revealed himself were "I am Joseph your brother" (Gen. 45:1-4).
Centuries later, in quite a different context, Pope John XXIII said these same words to a delegation of Jews. He called himself Joseph, which was the name he was given at his baptism. He called himself their brother, to signify that a long period of hostility was over.
Some Jews heard but could not forgive; others rejoiced; most thought, "Let's see what happens!"
Pope John meant what he said. Much will depend on what the rest of the world now says.