Paper by Rabbi Raymond Apple read at the Annual General Meeting of the Australian Jewish Historical Society, 14 December, 1981. (Subsequently published in the Journal of the Australian Jewish Historical Society in 1984, Vol. 9, Part 6.)
Responsa were (and are) answers by authoritative rabbis to questions on matters of Jewish law and tradition addressed to them by individuals, communities or other rabbis. Frequently they arise out of the changes and challenges of a given place or time, and they mirror the faithful Jew's determination to continue to live, even in unprecedented circumstances, within the Torah tradition.
My revered teacher, the late Dr Isidore Epstein, Principal of Jews' College, London, pioneered the use of responsa as source material for Jewish social history. His works on the history of the Jews of Spain and North Africa, built on the responsa of Solomon ben Adreth of Barcelona and Simon ben Zemach Duran, introduced a valuable new genre to Jewish historical writing.
Australia, understandably, does not figure prominently in the responsa literature, but this does not mean to say that there are no responsa from which valuable information can be gleaned concerning Australian Jewry. A tentative attempt will be made in this paper to evaluate historically the Beth Avraham of Abraham Eber Hirschowitz (1838-1924), who spent about four years in Australia in the 1890's, and many members of whose family have been and are prominent in Australian Jewish life.
HIRSCHOWITZ'S LIFE
Hirschowitz was born in Shillel, Russia, in 1838. He was the eldest son of a Shochet-Bodek, Samuel ben Meir Zecharowitz and his wife Hannah Esther, nee Kirchstein. There were six sons and two daughters in the family. Five sons became known as Goldberg; Abraham Eber adopted the surname of an uncle called Hirschowitz in order to confuse the Russian authorities and escape military service. All the sons and one of the two daughters left Russia. Only Rivke, the oldest child, remained there, married, and was believed to be still alive in 1924, the year of Abraham Eber's death.
Jacob and Morris settled in Sunderland, though Morris, who spent some time in Australia in the 1880's, later lived in Newcastle-upon-Tyne. Joel, Myer and Leon came to Australia in 1885 and established a family dynasty – Joel had seven children, Myer six and Leon eight. Malki married Myer Levy and had one son.
Abraham Eber studied with his uncle, Rabbi Zemach Itzel Maggid, and gained rabbinic diplomas from Rabbis Isaac Elchanan Spektor of Kovno and Jacob Saul Elyashar (the Haham Bashi) of Jerusalem. He must have married young, as he pays tribute to his wife Hena Dina's support during his long years of study when they lived in poverty. They had a son, Judah Leib, and three daughters, Miriam, Hinda Chassa and (I think) Shulamit. Family tradition has it that the children were brought up on enlightened lines with secular as well as Jewish education. The daughters must have possessed some literary ability since it was they who rendered some of his writings into English, including his Religious Duties of the Daughters of Israel, which went through several editions.
Hirschowitz taught Talmud in Vilna, and moved to Berlin to become rabbi of a "foreign" congregation in 1879. In 1884 he was sent to England by a number of Russian and German rabbis on a mission concerned with the colonisation of Palestine, presumably arising out of the Kattowicz conference that year. His task appears to have been to set up in England an organisation on Chovevei Zion lines to assist the settlement of Jews in the Holy Land. He visited Dr Nathan Marcus Adler, the Chief Rabbi, then living in semi-retirement in Brighton. Dr Asher Asher, the secretary of the United Synagogue, introduced him to Samuel Montagu, MP; both Montagu and Asher were deeply involved in efforts for the Holy Land. He may have met the veteran Sir Moses Montefiore, then in his hundredth year; we do know that he gave an address in honour of the great man's hundredth birthday. He had contact with Montefiore's adviser, Dr Louis Loewe, the Principal of Montefiore College at Ramsgate.
Settling in London, Hirschowitz became, a year or two later, the superintendent of the Poor Jews' Shelter in the East End, and he also taught at the Jews' Free School. Hena Dina had charge of the domestic arrangements at the Shelter and this relieved him of much of his work so that he could devote his time to study and writing. Over 7,OOO people, mostly from Russia, came to the Shelter for assistance during the five years the Hirschowitzes were there. Hirschowitz, in his memorial tribute to his wife, says that all who stayed or ate at the Shelter admired his wife's character and her kashrut.
During his London years, Hirschowitz had much contact with "Reb Yankele" – Rabbi Jacob Reinowitz of the London Beth Din, whom he called "my master and my teacher". They studied together regularly, and it may be that they discussed halachic questions that came to the London Beth Din, since in a later letter to Hirschowitz, Reinowitz says, "Your Excellency (the phrase is typical florid rabbinic style) knows that at once when Dr Adler receives sha'alot (rabbinic questions) he passes them on to me, and I immediately write all the answers to all the questions".[1] Hirschowitz and Reinowitz remained in correspondence until the latter's death in 1893.
The organisation that Hirschowitz had hoped to set up came into being with the name Hobebey Eretz Society (Society of Lovers of the Land) on 23 July, 1888. Hirschowitz was honorary secretary and a trustee; the other trustees were M Cohen, H Goodman and M Goldstein.
During these years Hirschowitz addressed several interesting halachic queries to Nathan Marcus Adler. Was porter kosher? Adler replied that there were no objections to it from the point of view of Jewish law. What should be done with cast-off clothing sent to the Shelter for distribution to the poor, since the garments might contain sha'atnez (a forbidden mixture of wool and linen)? Adler replied, "If you are certain that the garment contains sha'atnez, it is forbidden to distribute them and they must be sent to a tailor for the removal of the offending material. However, I understand that most garments are sewn with silk or cotton thread and accordingly are not necessarily sha'atnez."
In 1888 he wrote to Hermann Adler, the Delegate Chief Rabbi, asking whether one may take an oath using the name of God on becoming a British subject. Adler writes back saying there is no objection, and adding that he has consulted his brother Elkan, a solicitor, on the matter. He concludes with warm personal greetings to Hirschowitz and his family.
In 1891 Hirschowitz left England on doctor's orders, arriving in Sydney, where his relatives were living, in the month of Elul of that year, but he did not stay long. Rabbi Porush, in his House of Israel, explains why the established community was not particularly welcoming to Rabbi Isidor Bramson, a "foreign" rabbi who arrived later in the same decade, and a similar observation could be made about Hirschowitz's arrival notwithstanding his cordial relationship with the Chief Rabbi in London and the fact that his brothers and sister were already living here. The Rev. AB Davis, though colloquially called "Rabbi Davis", did not have rabbinic qualifications, and in some respects his religious leadership appeared to Hirschowitz to be wanting, though Hermann Adler insisted that Hirschowitz not oppose Davis, whom he called in Hebrew Harav Hadarshan (the minister-preacher). The Rev. Abraham David Wolinski, who had a greater understanding of Hirschowitz's idiom, did however consult him on halachic matters.
Hirschowitz moved to Melbourne before the end of 1891 and established a Chevra in Carlton – the only congregation in Australia which had a Talmud Shi'ur each evening. As Rabbi LM Goldman puts it in his book The Jews in Victoria in the Nineteenth Century, Hirschowitz's "first appearance in Melbourne nearly caused a riot".[2] Rabbi Goldman writes:
A member of the East Melbourne Congregation asked its President, Mendel Cohen, if Hirschowitz could give an address in Yiddish in the Synagogue during the Festival of Chanukah. The president said he could if 50 members would sign a petition, but in any case he could use the schoolroom if the signatures were not available in time.

Sixty to seventy people came to hear him and after the Chanukah service they settled down to listen to the d'rashah; but the President told them to go into the schoolroom. The audience would not budge and Hirschowitz started his discourse. The President then told Michelson the Shamas to warn Hirschowitz that if he continued his discourse in the Synagogue itself he would put the gas out.

Hirschowitz, a wise and scholarly man, not wishing to cause a disturbance in the Synagogue edifice, ceased his sermon immediately, but the audience, not so wise and not so scholarly, did cause a disturbance and a rumour spread that a Rabbi had been insulted in the Synagogue and the gas had been put out on him.

The affair raised quite a stir in the community but soon settled down when Hirschowitz no more had to plead to address assemblies at the East Melbourne Synagogue, but formed his own 'Chevra Torah' in Madeline Street, Carlton, as a Beth Hamedrash, which opened from 6.30 am to 10 am and from 5 pm till 9 pm for the study of the Talmud and Hebrew Literature and for morning and evening services.

Members, who paid whatever they wished, elected A Goldman, President, Morris Rabinov, Treasurer, L Samuels, S Gotfeld, D Davis, S Silberman, N Phillips, K Matkovitz, H Marks, S Jacobs, M Silberman, M Applebaum, M Abrahams, J Levy and A Bloom, Committee. Hirschowitz answered Sha'aloth, acted as a Mohel, and gave Yiddish addresses to his 130 members which enthralled them, even when he spoke for one and a half hours on the Fast of Av concerning the fall of Jerusalem.

Abraham Feuerman served as Reader over the High Holydays. With the registration of the Chevra Torah with the governmental authorities, Hirschowitz performed marriages and formed a Beth Din, for which he was well qualified. But it did not please the official Beth Din…[3]
The list of office-bearers does not include the name of Woolf Davis, but it is evident from Hirschowitz's writings that they had a close association and jointly succeeded in establishing a mikvah at the Melbourne City Baths. Davis was a champion of orthodoxy and a learned man. According to Rabbi Goldman, he had befriended Rabbi Aaron Levy during the latter's visit to Australia in 1830. If this is so, it seems hardly credible that sixty or more years later Davis was still energetically involved in communal affairs. It may be that Davis' contacts with Levy, a member of the London Beth Din, were later and took place either in London or from Melbourne by correspondence. Davis had been active in the generally fractious East Melbourne Hebrew Congregation and was its president from 1872-74. He opposed on religious grounds the sale of the old East Melbourne Synagogue and resigned his trusteeship. When East Melbourne appointed Rev. Isidore Myers as minister, Davis, who remained nominally a member of the congregation, formed his own private minyan which became known as the Woolf Davis Chevra. Davis' son-in-law, JE Stone, continued the tradition and his Chevra became known as Stone's Shul. Woolf Davis, long before Hirschowitz's arrival in Melbourne, was in regular contact with the rabbis of Jerusalem and worked for charitable projects in the Holy Land including two almshouses and a Beth Midrash. It appears that much respect was accorded to Davis by the same rabbinic authorities as were in correspondence with Hirschowitz, and at times Davis and Hirschowitz signed letters jointly. Both were persistent advocates of greater orthodoxy in Melbourne and had Hirschowitz remained the community might have derived lasting benefit from his learning and personality. He spent, however, only about four years in Australia.
His departure came about because he lost the support of the more "foreign" and traditionalist section of the community. As Rabbi Goldman remarks, "Proselytes were his downfall. He commenced to admit them into the pale of Judaism. Bitter feelings existed at the time in Melbourne regarding the problem of admission of proselytes, the more orthodox section opposing conversions strenuously, and since Hirschowitz depended for his support on the orthodox section, his action immediately alienated their strong affection for him. It left him with no alternative but to leave Melbourne. He sailed for the United States of America."[4]
After confronting en route a fascinating halachic problem, he landed in San Francisco and spent about a year there. He moved to Toledo, Ohio, and finally, in 1898, to New York, where he ministered to a congregation called "Sons of Israel – Anshei Kalvarier". It is thought that, following ancient practice, he accepted no salary, at least in his later years, gaining a livelihood from the proceeds of his writings and from the gifts of congregants and admirers.
In 1895 or 1896 he visited Japan at the invitation of a wealthy Jew, Moses Ginsberg, probably in connection with a gett (religious divorce). Whilst there, says family tradition, he was hard pressed to avoid the attentions of the geisha girls! From about 1921 or 1922 be lived in retirement in Jerusalem and on 9 October, 1924, aged 86, he died there at the home of his granddaughter Hannah and her husband Dr Samuel Ben-Shabetai of the Sha'arei Zedek Hospital. He is buried on the Mount of Olives; his grave survived the Jordanian depredations comparatively unscathed.
HIRSCHOWITZ'S WORKS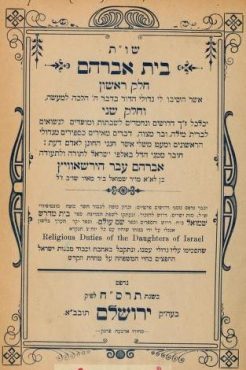 Hirschowitz's major literary work was his Beth Avraham, published in Hebrew in Jerusalem in 1908. It consists of two parts. The first comprises responsa and rabbinic correspondence upon which this paper is largely based. The second part is a collection of sermons, including a memorial tribute to the author's wife who died on Shabbat Ki Tetzei, 14 Elul, 5667 (1907). Bound with it in the Falk Library copy is a pamphlet entitled Shem Olam, printed in New York in 1907, and containing various memorial tributes and inscriptions. The Falk Library copy is inscribed in Hebrew in the author's handwriting, "In honour of my brother the Nagid (leader), Yehudah Leib (Leon) Goldberg; sent by his brother the author". Leon Goldberg died in Sydney in 1918 and Rabbi Falk presumably acquired the book from the family.
A second book by Hirschowitz is his Religious Duties of the Daughters of Israel published in New York in 1902. It is described as dealing with "the three most important duties, viz. Niddah, Challah, Hadlakah", with a further note, "We have also added Laws concerning the Salting of Meat, Prayers, Meditations and Duties for Parents in Training Children". The book was rendered into English by the author's daughters; my copy is inscribed in English in the author's handwriting, "Presented to My Sister Dinah – Abraham E Hirschowitz". Dinah was in fact his sister-in-law, the mother of Phoebe Davis who kindly gave me the book.
He also wrote Beth Midrash Shemuel, a two-part collection of sermons and memorial addresses, published in Hebrew in Jerusalem in about 1905, and a variety of smaller works, mainly sermons and rabbinic novellae including a sermon in honour of Sir Moses Montefiore on the latter's hundredth birthday.
HIRSCHOWITZ'S RESPONSA AND RABBINIC CORRESPONDENCE
The accepted method of issuing responsa reflects the traditional rabbinic care and concern to ensure that halachic decisions are in full accord with the law. Thus, when a query of any difficulty is addressed to a rabbi, he will generally refer it to rabbinic authorities elsewhere, often submitting his own tentative answer for consideration and approval. This was Hirschowitz's method, and his rabbinic correspondence was carried on with three main centres – London, where he was personally known to Chief Rabbi Nathan Marcus Adler, his son and successor Hermann Adler, and Dayan Jacob Reinowitz of the London Beth Din; Eastern Europe, where he consulted the Kovno Rav, Isaac Elchanan Spektor, and Rabbi Aryeh Leib Rashkas of Shnipishok and others; and Jerusalem, where his authorities were Rabbi Samuel Salant and the Haham Bashi. All indicated their high regard for Hirschowitz and his learning. The Kovno Rav in fact asked him to be his messenger to pass on to the Adler family his condolences on the death in 1890 of Chief Rabbi Nathan Marcus Adler. Hirschowitz gives Spektor's letter pride of place in his Shem Olam, recognising that the request was a compliment to himself and to his standing with the rabbinate of both Kovno and London.[5]
In a number of cases Hirschowitz disapproved strongly of religious standards and usages current in Australia but his correspondents, recognising that the Antipodean communities were under the jurisdiction of the London rabbinate, urged him to consult Hermann Adler and to honour the rulings of Nathan Marcus Adler and his predecessor Solomon Hirschell.[6] Very frequently he was asked to convey regards from his rabbinic correspondents to Woolf Davis, Kalonymos Ze'ev ben David.[7] Samuel Salant in particular was generous in his praise of Davis, who as we have seen was involved in much philanthropic work in Jerusalem.
Before proceeding to detail some of the specific data to be gleaned from the Beth Avraham in connection with Australian (and incidentally also New Zealand) conditions, I emphasise that this is an historical and not a halachic paper. I shall therefore not enter into details of halachic issues or arguments, except insofar as they yield historical information and are of general Jewish interest.
Hirschowitz's main worry in Australia, as the extracts from Rabbi Goldman's book indicate, was in connection with intermarriage and conversion. The first responsum in the book which touches on this subject comes in answer to a query from the Rev. Wolinski of Sydney, dated 16 February, 1894.[8] A Kohen had married a proselyte in a civil ceremony; according to Jewish law such a marriage could not be solemnised in synagogue. Was it permissible, asked Wolinski, for the Kohen to be called up first to the reading of the Torah? Writing from Melbourne, Hirschowitz explains that strictly speaking such a person should not be accorded the normal honours but if they were denied him he would think he was no longer bound to carry out responsibilities, such as not defiling himself by contact with the dead. As a Jew he was entitled to be called to the Torah, so that he could be called up Acharon (last), which mitzvah could be offered to either a Kohen or Levi or an ordinary Israelite.
An enquiry sent by Hirschowitz in Melbourne to Hermann Adler and the London Beth Din, and to Samuel Salant in Jerusalem,[9] concerns Jewish men who have married gentile wives, and had their sons circumcised by a Mohel (Jewish ritual circumciser). When a mother and her son seek acceptance into the Jewish faith, he asks, is it necessary to draw a drop of blood to validate the circumcision religiously, as this may distress the child, and make his parents reluctant to have his conversion finalised?
Hirschowitz argues that the requirement to draw a drop of blood applies only if a circumcision had been done by a gentile doctor, and suggests that it is unnecessary when the operation had been done by a Mohel not merely as a surgical procedure, but with the intention of carrying out the Mitzvah of Milah. Both Adler and Salant, and also Leib Meir Bassin of Vilna, consider the question in detail and uphold Hirschowitz's contention.
Hirschowitz writes to the Haham Bashi, Rabbi Elyashar, in Jerusalem[10] concerning the case of a Jew who married a gentile in a civil ceremony and she was then converted to Judaism. The question is whether she needs to wait the customary three months before resuming marital relations with her husband. The three months, Hirschowitz suggests, may be meant to apply only where a single woman was converted and subsequently wished to marry a Jew. Where, however, she was already civilly married to and cohabiting with a Jewish husband, it may be that no waiting period is necessary. The Haham Bashi replies that it pains him to answer a query on a matter such as this, for it is a sinful generation in which Jews marry gentiles and the problem is a spreading sore. His halachic decision is that if the woman has never given birth to a child, or is now pregnant, the three months may be dispensed with, but otherwise it must be maintained.
Long after Hirschowitz left Australia, an Antipodean problem came to him in Toledo. Writing in 1905 to Rabbi Chaim Jacob Widerowitz of New York,[11] he seeks guidance concerning a gentile woman who was married to a Jew and bore him a son. Six days after the child was born the mother accepted upon herself and her son the observance of the commandments. On the eighth day the child was circumcised. On the sixteenth day, the child was immersed in the mikvah (ritual bath) on the same day as was his mother. The father had to return to New Zealand the following day and intended to send for his wife and son in a few months' time. He wished to undergo a religious marriage ceremony straight after the woman was immersed in the mikvah and not to wait the normal three months, one reason being that in New Zealand qualified Sabbath-observing witnesses were not available. Hirschowitz asks whether the woman may be regarded as a pregnant or elderly woman and have the three months' waiting period waived. Widerowitz permits the period to be waived.
A second major concern of Hirschowitz during his Australian sojourn was the lack of a proper mikvah in both Sydney and Melbourne. His rabbinic correspondents all praise him[12] for his perseverance towards the establishment of mikva'ot. In his efforts for orthodoxy he is, says Jacob Reinowitz, "a rose amongst the thorns".[13] Salant says it brought him great pleasure to learn that with Heaven's help Hirschowitz had brought a mikvah into being in Melbourne and wishes him the merit to establish other religious institutions. Hirschowitz himself pays tribute to Woolf Davis's support in his efforts for the mikvah.[14]
What facilities were there for ritual immersion in the meantime? In Sydney,[15] writes Hirschowitz, Jewish women immersed during the summer months in the sea, but in the winter there was a problem "and the modest daughters of Israel asked me to remove the obstacle from the path of my people". He found swimming baths whose water came from the ocean but both men and women used them. The attendant promised to allow exclusive use of the baths to Jewish women for three hours during the day on two occasions each week, provided they were clothed. The baths themselves, says Hirschowitz, formed a valid mikvah, but the problem was whether the mikvah could be used during the day instead of at night, utilising an emergency provision found in Jewish law, and whether it was permissible for women to immerse wearing a garment of some kind.
The query is addressed to Hermann Adler in London. He replies: "I am pained to hear about the state of Judaism in your place, but this I repeat and re-iterate, that you should not do anything for the welfare of the Torah if you would be thus in opposition to the Minister-Preacher (AB Davis) and would cause disunity."
In answer to the halachic query itself, Adler says that, in the circumstances, women could immerse during the day after the completion of the week following a period, though for eight months of the year it was possible for them to immerse at night in the sea or river. If necessary they could wear a loose, wide garment without sleeves but should raise the garment just before the immersion.
From Melbourne Hirschowitz addresses a query to Reinowitz in London and Salant in Jerusalem. Though occasioned by the problem of how to carry out the immersion of a female proselyte,[16] it explains the general situation in the absence of a mikvah. "Since there is no mikvah here for the daughters of Israel under Jewish control, most women follow the heretical practice of taking a bath at home and considering that this makes them permissible to their husbands. Only the modest ones go to immerse in the sea where there is a tent with walls whereby no man can come or see, and if a man should, God forbid, be brazen and bribe the attendant to let him come there … they would be severely punished by the laws of the State."
With the immersion of a woman proselyte there would be a problem in that the Dayanim have to be in attendance and know that the immersion has taken place. In the light of the law forbidding a man to be nearby it would appear that the Dayanim were breaking the laws of morality. Hirschowitz asks therefore whether the immersion of a proselyte is valid ex post facto even without the presence of a Beth Din. He suggests that the Beth Din should accompany the woman as far as they can and then women should take over, "and since it is known to everyone that she has immersed it is as if they were standing there."
Reinowitz says he tends to accept this view but that the approval of the Rabbi of Kovno or another great scholar should be sought. Hirschowitz's book does not appear to record any other responses to his query.
A third major area of halachic controversy involving Hirschowitz was concerned with the problems of marriage and mamzerim (illegitimate children born of an adulterous or incestuous union). Many pages and much correspondence are devoted to a difficult and complicated question which arose in Melbourne in 1893 and must have evoked bitter feelings.[17] There came to Hirschowitz a man of thirty-five and a widow of thirty-one who asked him to solemnise their marriage. The woman admitted that her husband had died only sixteen days previously. Hirschowitz said he could not conduct their marriage until after the lapse of ninety days from the husband's death. The woman, however, was pregnant, and said that her fiancé was the father. She said her husband had been in a mental hospital for eighteen months, and in the meantime the other man had been lodging in her house and living with her. Hirschowitz explained that if their story were true they could never marry according to Jewish law. He did, however, proceed to ask whether the woman used to go and visit her husband in the hospital, to which she replied that she did so every Sunday. Setting out the facts in detail, Hirschowitz now considers whether the presumption in halachah – if a married woman is pregnant, it is by her husband – is strong enough to save the child (it was a girl) from the disability of illegitimacy.
In reply to his closely reasoned letter Hirschowitz receives a response from Hermann Adler who, presumably, following his normal practice of reinforcing the authority of the local religious establishment, writes care of Rabbi Dr Joseph Abrahams of the Melbourne Hebrew Congregation,[18] and a series of letters on the subject now passes between the two. Long letters are also received from Samuel Salant and Aryeh Leib Rashkas and finally Hirschowitz notes that he tends towards the view of Rashkas that the child must be deemed illegitimate.
He adds what finally transpired. After the woman gave birth on Monday, the second day of Shavu'ot, 1893, and after she returned to health, she went to Dr Abrahams, who instructed the shochet, Rev. Moses Saunders, to solemnise their marriage. The secretary of the Melbourne Hebrew Congregation, Rev. SM Solomon, told Hirschowitz about the marriage in detail, and Hirschowitz records Solomon's words verbatim, adding, "This I place before the great ones of Israel that they may clarify the halachah according to the law and commandment".
Turning now to responsa on the general area of religious practice, there is a letter from Hirschowitz dated 1894 to Woolf Davis[19] who had asked about a Kohen, who whilst not working on Shabbat, allowed his shop to be open that day; the business being conducted by his sons. Could such a man be called to the Torah as a Kohen? Hirschowitz replies that the transgressions of children do not compromise the father's status as a Kohen.
A major section of the book deals with another Sabbath problem which arose on Hirschowitz's departure from Australia and on two subsequent occasions.[20] On Monday, 6 August, 1894, Hirschowitz left Sydney on the Mariposa bound for San Francisco. On Friday the ship reached Auckland. On Sabbath morning he prayed with the congregation in what he calls the "splendid" Synagogue; he says there were about a hundred Jewish families in Auckland at the time. After mid-day the ship departed. On Tuesday, 14 August it was announced on board that they had crossed the international dateline and the day would now be regarded as Monday, 13 August. This interrupted the sequence of days for the purpose of calculating the Sabbath, and therefore, on the seventh day from the previous Shabbat Hirschowitz observed the Sabbath and also the next day – which by the ship's reckoning was Saturday. He continued to observe two Sabbaths each week until finally settling in San Francisco, where he adopted the local reckoning.
Two years later he went to Japan, losing a day en route and regaining it on the way back. On the return voyage the ship called at Honolulu on the Fast of Esther, according to the calculation of days since leaving Yokohama. That night and the following morning Hirschowitz read the Megillah on board ship and in the morning he went ashore and meeting some Jews, wished them a happy Purim. They replied that it was the Fast of Esther, hence that night and again the following morning he once more read the Megillah. Now he asks for authoritative guidance, especially since a Jew in Yokohama asked him what to do if Yom Kippur fell whilst a person was on a sea trip – how could one keep the fast twice? A further brief query, dated 1906, asks the rabbis of Jerusalem how to advise travellers who are likely to be on board a ship on Yom Kippur or Pesach.
An undated reply from Rashkas summarises rabbinic literature on the subject of the international dateline and rules that one counts seven days from one's last Shabbat and then observes the Sabbath, and on arrival at a settled place one adopts the method of reckoning days current there.
A liturgical problem that takes up many pages of his book sees Hirschowitz concerned with the necessity of interpolating the references to rain in the Amidah.[21] The custom in Australia had been to omit these passages, supposedly on the instructions of Nathan Marcus Adler but in fact, as Hermann Adler informs Hirschowitz, it was Chief Rabbi Solomon Hirschell's ruling which Nathan Marcus Adler had simply confirmed. Hirschowitz considers the Australian custom to be erroneous and asks whether the references to rain should not be said in Australia in the same way as everywhere else in the Jewish world. He admits that there is halachic argument to the contrary but says that in the summer months (from Tishri to Nisan) rain is a blessing in Australia just as it is at the same time of the year in the northern hemisphere winter.
Spektor replies that Australia should follow world-wide custom. Salant says that ten tal u'matar should be inserted in the blessing shome'a tefillah ("He who hearkens to prayer") and mashiv haru'ach should be said in the same place as was done by other communities; bearing in mind, however, the strength of custom, the existing usage could be maintained. Hermann Adler urges that the existing custom not be changed. In his own Beth Midrash Hirschowitz introduced the prayers for rain in the normal places.
He now asks Reinowitz whether one may pray with a congregation which omits these passages and whether one can say "Amen" after a blessing which does not include these words? Reinowitz replies that the omission of these words does not make an Amidah invalid or heretical, and in any case it is based on a custom which has rabbinic sanction. There is therefore no problem about saying "Amen".
One may fittingly conclude that if Hirschowitz was not the first rabbinic scholar to delve into Australian problems with the aid of the equipment of halachic expertise, he was certainly the first to spend an extended period in this country and to publish his halachic correspondence concerning Australia in extenso. One sees him as a competent rabbinic scholar held in esteem in the rabbinic world but one who, like Bramson in Sydney, was bound to come into conflict with the established religious leadership of the time by reason of a sizeable culture gap.
The picture one gains of the communities of Sydney and Melbourne in the 1890's is of Jews who were on the whole well settled and integrated into Australian life, with a standing in the eyes of their fellow citizens which they guarded jealously, especially against the possibly adverse effect of the arrival of so-called "foreign" co-religionists and "foreign" rabbis. If their religious standards were not high much is due to the combination of religiously unfavourable circumstances which operated for decades in the earlier part of the nineteenth century as well as the sheer distance of Australia from the major Jewish centres and the relative isolation of Australian communities from each other.
But the responsa of Hirschowitz also reveal the determination of Australian Jewry to hang on to its traditional association with and subservience to the British Chief Rabbinate as a major religious influence, and the existence and perseverance of little pockets of quite learned individuals such as Woolf Davis who were determined to impose high standards on themselves and make them available for others.
NOTES
1. Hirschowitz, Beth Avraham, p.35.
2. LM Goldman, Jews in Victoria in the Nineteenth Century, pp.368-9.
3. Ibid., p.172.
4. Ibid., p.369.
5. Hirschowitz, Shem Olam, p.4.
6. Hirschowitz, Beth Avraham, p.37.
7. Ibid. pp.29, 35-7.
8. Ibid. p.5.
9. Ibid. p.48.
10. Ibid. p.52.
11. Ibid. p.59.
12. Ibid. pp.29, 35, 37
13. Ibid. p.48.
14. Ibid. p.47.
15. Ibid. p.19.
16. Ibid. p.47.
17. Ibid. p.20.
18. Ibid. p.23.
19. Ibid. p.6.
20. Ibid. p.1.
21. Ibid. p.34.