The following article by Rabbi Raymond Apple appeared in the Journal of the Australian Jewish Historical Society in 2020, Vol. 24, Part 4.
Abstract
Rev. Moses Rintel was the inaugural minister of the Melbourne Hebrew Congregation. After protracted controversy he walked out with some of his supporters and set up a rival congregation. This article in two parts describes his background and his rabbinic career. The story of his background, told in Part I, centres on his father, Rev. Myer Rintel, a poultry shochet, who is credited with writing a robust Hebrew defence of the chief rabbi of London, Solomon Hirschell, who was under literary attack from an artist-scholar, Solomon Bennett. The article examines the nature of the controversy and questions the real role of Myer Rintel. Myer ended up in obscurity, but Moses was a dynamic, controversial rabbi in Australia.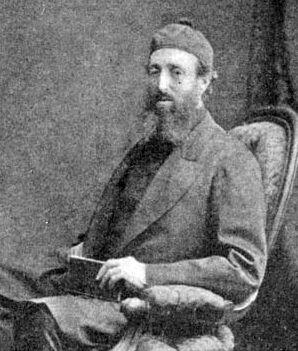 Introduction
Rev. Moses Rintel[1] was the inaugural minister of the Melbourne Hebrew Congregation in Bourke Street. After a drawn-out conflict, he and some of his supporters, claiming to want a more Orthodox congregation, walked out and established the Mickva (Mikveh) Yisrael Synagogue at the other end of town, at first in a small building in Lonsdale Street and then in the purpose-built classical-style East Melbourne Synagogue in Albert Street near Parliament House.[2] East Melbourne became known as the Little Shule or – refecting the Polish origins of many of the members – the Pollakim Shule, whilst Bourke Street was called the Big Shule. East Melbourne is still there; Bourke Street was replaced nearly a century ago by the impressive Toorak Road Synagogue.
Thanks to his marriage and family connections, Moses Rintel was well of and took no salary from East Melbourne for some years. When he died he left nearly £4,000, a large sum for those days. He had started in Sydney as a schoolmaster and moved to Melbourne in 1849. He was at Bourke Street until 1857 and then at East Melbourne until his death in 1880. Though a writer in the Jewish press[3] called him tactful, he was a quarrelsome character and had a long dispute with Bourke Street over community status. Chief Rabbi Nathan Marcus Adler ruled that Bourke Street was the senior congregation but Rintel (not Rev. AF Ornstein of Bourke Street) was the community's senior minister. Rintel now put after his name the initials SJM (Senior Jewish Minister).[4]
The centenary history of the Melbourne Hebrew Congregation claims that he was born in Poland and came to England after involvement in revolutionary activities.[5] Both claims are wrong. He was born in Edinburgh in 1823 or 1824. Communal record-keeping was often haphazard, and one can never be entirely sure of dates, but 1823 is the date that Rintel himself used. After a brief period as reader/shochet (slaughterman) in Brighton, Sussex, he sailed to Australia on the SS Lloyds. He landed in Sydney on 14 July 1844, though the official minister from 1840–1855 was Jacob Isaacs. Though he assisted in the synagogue, Rintel worked mostly as a schoolmaster and headed the Sydney Hebrew Academy[6] founded in 1846, before proceeding on the SS Velocity to Melbourne. He arrived in Melbourne on 4 April 1849, and four months later, on 22 August, the congregation's spiritual leader Asher Hymen Hart conducted Rintel's marriage to Elvira Hart at the Bourke Street Synagogue. Elvira was born in New York in 1822. She was the daughter of John Hart of Collins Street, Melbourne, and the sister of Henri J Hart, a wealthy businessman/lawyer.[7]
Moses Rintel was educated by his father, Myer Moses Rintel, in Bible and Talmud, as well as in practical skills such as shechitah and milah (circumcision). He was probably a pupil-teacher at the Jews' Free School (JFS), London – a form of in-service training which apparently qualified him to be a schoolmaster. Apart from the religious teaching gained from his father, he claimed to have been trained for the ministry by "the celebrated Dr Sulzberger of London".[8] Actually there was no formal ministerial training in England in those days. The ministry as a profession had not yet been developed, and the ministerial training college (Jews' College) was not opened until 1855. Further, the name Dr Sulzberger is not found in the records of early nineteenth century Anglo-Jewry and it is likely that Sulzberger gave him singing lessons. The description "celebrated" fits into musical culture more than rabbinic studies.
As a cantor, Rintel was said to have been quite accomplished. He probably had no difficulty with the tuneful conduct of services, though it took him some years to learn the art of preaching. It is said that his early sermons were written by a Christian colleague.[9] Neither in Britain nor in Australia was preaching a regular feature of synagogue services in those days, though when Jewish ministers became preachers, Christian moralistic preaching was their first model. In his 31 years in Melbourne, people called Rintel "Rabbi" as a matter of courtesy, but he had no formal ordination and signed himself in Hebrew he-chaver (an esteemed scholar), not ha-rav (a rabbi). Whatever his title, he became a well-known public figure holding office in Masonic lodges, the Hospital Sunday movement and many other colonial organisations.
PART I: THE STORY OF MYER MOSES RINTEL, REV. MOSES'S FATHER
The name Rintel
The name Rintel is found in various forms in many parts of Europe. It could be Dutch or French in origin but probably derives from a little town in the Rhineland.[10] As a surname, it follows the widespread custom of identifying a person by their place of origin. There is a Scottish parish of Rintoul, which has no connection with the Rintel family, regardless of Myer Rintel's brief employment by the Edinburgh Jewish community. Australia has a number of Rintels. Some are Moses Rintel's descendants, though few of his children had issue. Few Australian Rintels are Jewish. In some places, however, it is a Jewish surname: there was a Rev. Joseph Rintel who served the Falmouth Hebrew Congregation, about 1832 to 1849. Possibly he was a nephew of Myer Rintel.
In the 1841 census the surname is given as Rentel and in the 1851 census as Rindle. Although not many people could read and write, Myer Rintel was fully literate. Census details were generally filled in by clerks who were often ill-trained and careless.
Myer Moses Rintel
Writing about Myer is a difficult task when there is (so far) so little data available and there are gaps in the story. This does not stop one asking questions: the problem is the answers. In the present article the writer proposes theories about Myer which later historians might reject or at least qualify. This is a methodological judgement of which the reader has to be aware.
Meir ben Moshe HaKohen was a shochet who was born in Kraków, Poland, in 1785. He came to England early in the nineteenth century as a Hebrew teacher, mohel and poultry shochet. He could have been part of a revolutionary movement, but this remains in doubt.
Myer's wife was Sarah Davis or Davies, born in Rogozno, Poland, in 1785. Their three children were Moses, Flora (Floretta), born in 1826, and Hyman, born in 1830. The children were born when Myer and Sarah were in early middle age, which possibly indicates that they married rather later than other couples. The 1841 census reports them living in Gravel Lane, London. It names Myer's wife as Mary, which may be a mistake. The 1851 census calls her Sarah (or was she his second wife?).[11] They were then living in Carter Street. After Myer's death Sarah apparently moved back to Poland and died there in 1869. She cannot have had an easy life in view of Myer's engagement in communal controversy. We do not know whether she shared her husband's pro-Hirschell views or, like the wife of On ben Pelet in the Midrash on the Korach controversy (Num. 16), she told Myer not to get involved.
Some sources (including his son Moses) call him a Hebrew scholar and writer, and obituaries of Moses even claim that Myer wrote several books, but his sole real claim to literary fame is a pamphlet defending Chief Rabbi Solomon Hirschell in a conflict with Solomon Bennett[12] in the second decade of the century. The Hebrew style is biblical and may be too erudite to have been written by Myer. The occasional typographical errors may be due to the printer, a Great Synagogue (London) chorister called Yechiel Hanau.
The Bennett controversies
The background to this controversy which reached its height (or nadir) between about 1815 and 1818 was the enmity between Solomon Hirschell and artist/engraver/scholar Solomon Bennett. The conflict had several roots. One was a quarrel that arose years earlier over an engraving Bennett made or plagiarised of Hirschell which led to litigation and landed Bennett in debtors' prison. Bennett traced Hirschell's antagonism to a quarrel in Berlin between their respective fathers. The story of the engraving is rather confusing, but it seems a petty matter which hardly warranted great ructions. None of the historians is certain why the engraving played such a major role in the controversy. Writing on early Anglo-Jewish artists, Alfred Rubens thinks that Bennett's eyesight had deteriorated to the point that the engraving was poorer than his earlier works and this might have created one of the problems.[13]
The 1817 dispute was over a catechism, Shorashei Emunah (Foundations of Faith) written by Salom (Salomon) Cohen and published in Hebrew on the Continent. In 1815 it appeared in England with a translation by the scholarly doctor, Joshua van Oven. It was a statement of Judaism in the form of a catechism and enjoyed popularity for some time. It bore the endorsement of both Hirschell and the Sephardi rabbi, David Meldola, though the latter complained that his name was appended without his knowledge. At this period, considerable Jewish catechical writing was being produced on the Continent and even in England, presenting Judaism as a theological confession more than a literary and behavioral tradition.
The target audience was young people of both sexes who needed to know how to be Jewish in a Christian environment – specifically, how to resist the arguments of the missionaries. Bennett penned an angry response to the book, questioning its authority and castigating Hirschell for approving it. Bennett listed a sheaf of objections to the book. He especially called the book heretical because it took in rabbinic interpretations and did not limit Jewish beliefs to those enunciated in the Bible. Hirschell was on safer ground than Bennett because a precedent was established by Maimonides, whose 13 Ikkarim (Principles) were based on the thinking of the sages, as pointed out by Rabbi Solomon Goldman in a Festschrift for Chief Rabbi Israel Brodie.[14] Rabbi Goldman says that Maimonides chose his 13 tenets precisely because they were axiomatic in Talmudic literature. If we view Bennett's objections to Salomon Cohen's catechism from the theological point of view we realise why David Ruderman says this makes Bennett a literalist or Biblicist. Rintel accuses Bennett of following the Karaites[15] and bypassing the sages.[16]
Hirschell had confidence in Rintel's Orthodoxy. Not only Rintel's but every shochet's. He set up a system whereby every shochet had to sign an undertaking to obey the chief rabbi and do nothing to compromise the rules of Jewish law. Rintel himself does not seem to have given a signed undertaking, but this is explained by the rabbi not introducing this requirement until 1823, long after Rintel had become a shochet.
Hirschell was disconcerted at Bennett's theology and offered the fig-leaf that any questionable elements in Cohen's book had been added after he had seen the main text. These had not been submitted for his approval, but apart from them the work was quite acceptable. The questionable items are not identified but they might relate to attitudes to Christianity.[17] It would be a mistake, however, to suggest that the conflicts between Bennett and Hirschell were mere academic differences "for the sake of Heaven". The truth is otherwise. Persons and not philosophy were at issue, with both sides throwing vituperative language at the other without grace, charm or restraint. Bennett mocked Rintel and called him "a filthy poultry slayer". Rintel, for his part, trenchantly condemned Bennett's somewhat unorthodox religious views and accused him of heresy.[18] The issue had become not Cohen's book but the personal characters of the protagonists.
Bennett was no unbeliever or ignoramus lacking in Talmudic knowledge. In the independent Western Synagogue, he was esteemed highly as a scholarly congregant who regularly attended services despite his lapses in Orthodox observance. Barnett says he was "a rare master of Jewish scholarship"[19] but maybe this goes too far. Barnett tries too hard to be fair to Bennett, making a "tub-thumper" into a serious theologian.
Not that Hirschell himself was such a saint and scholar. He used the title Doctor despite his lack of general culture. In the opinion of Bennett and other critics, he was only mediocre in rabbinic knowledge. Bennett could not remain silent and felt he had to speak out. He was livid at the allegedly inept leadership of Hirschell and the inadequate Judaism practised by the community.[20] He said Hirschell wasted his time when he sat in his study, and kept a fine library for mere show. He criticised the rabbi's religious decisions and wondered why Hirschell seemed to go along with the religious laxity of the community. He agreed that the rabbi kept control over kosher meat, as exemplified in the Kabbalah Book of London (now held at the Jewish Theological Seminary of America)[21] but he thought that broader spiritual issues were being neglected.
Arthur Barnett is kinder towards Bennett than are Duschinsky,[22] Picciotto[23] and other historians but he accepts that Bennett's criticisms have some validity. He denies that the chief rabbi was an effective or inspiring figure despite his elegant and dignified appearance, a point made in Hirschell's obituary in the Anglo-Jewish press.[24]
Bennett did not always do himself a service. He was not conventionally Orthodox[25] which made his views suspect in some eyes; he himself said, "If a Jew be not Orthodox in the extreme they proclaim him to be an infidel". He defied Hirschell by conducting a marriage which the rabbi had declined to authorise on the grounds of halachic unacceptability. He was given to robust and injudicious language, inviting condemnation by those who felt that lay people should show respect to authority.
Hirschell had had an earlier contretemps with the printer/scholar/liturgist Levi Alexander, so controversy was not new to him. In this instance, Bennett could not leave well enough alone. His attack on Salomon Cohen, called Tene Bikkurim (A Basket of Criticism), was followed by a broader but little-known work, The Present Reign of the Synagogue of Dukes Place (1818) which pointed the finger of scorn and condemnation at the Hirschell regime, wondering why the chief rabbi seemed so supine when so many defects marred community life. ("Ha, ha, ha! … Our learned Grand Rabb … Proud Pontif … his sovereign Rabbiship!"[26]).
Hirschell had long been angry with Bennett and had even tried to excommunicate him. Beyond the original casus belli – the Bennett engraving[27] – the battles became lengthier, wider and angrier from 1815 when Cohen's book was published. The rabbi was not without supporters who felt he had been insulted and undermined by Bennett. However, the rabbi had made it a habit not to engage in public polemics[28] (not that at times he did not break his own rule) so he got (or hired) others to go on the warpath for him.
Myer Rintel's response
What has all this to do with Myer Rintel? Hirschell, touchy about his status and dignity, felt bitterly offended by Bennett. Instead of directly retorting in his own name, he appears to have asked Myer Rintel to respond by means of a pamphlet called Minchat Kena'ot (Offering of Vengeance). This name was already famous as the title of a medieval work by Don Astruc (Abba Mari) concerning the study of Aristotelian philosophy. Rintel's pamphlet could have been a mere façade with Hirschell himself as the real author.[29] It is unlikely that Rintel was an adequate theologian; Roth thinks he "took up the cause" on his own initiative but if he really was the writer of the pamphlet it is surprising that he published nothing else.[30]
The rabbi (even if he was a better scholar than Bennett thought) was no writer and may have dictated the material (in Hebrew) to Rintel, who added an obsequious English-language preface in praise of Hirschell before sending the text to the printer. Hirschell's English was inadequate; but so was Rintel's. We are not certain why the author, whoever he may have been, did not maintain a judicious academic tone instead of trading insult for insult, though this was the tone of the pamphlet wars of the time. If the author was Hirschell himself, the rancorous language hardly accords with the kindly and tolerant ways which history attributes to the rabbi.[31]
Rintel castigated Bennett, called him untrustworthy and wrote that he tends to see non-existent errors in a book which would have been harmless had not Hirschell approved it. He thought Bennett's real motive was to attack the chief rabbi and cause friction with the Sephardi religious leader Raphael Meldola. He stated Bennett should know better than to attack a rabbi in the presence of an ignorant community and indeed he painted a wonderful word picture of the chief rabbi as an almost saintly figure.
Hirschell seems to have taken a liking to Myer, possibly – indeed probably – using him as a front man and telling him what to write. What attracted the rabbi to the role of a lowly slaughterer is not certain. We know Hirschell had protégés such as DW Marks (later minister of the Reform congregation), who were generally Jews' Free School boys whom the rabbi tutored. Myer Rintel, however, was neither a schoolboy nor a pupil of the JFS, but a grown man. Was it that no-one else came to Hirschell's support and in desperation the latter turned to Rintel? If so, why did he not choose someone of higher communal rank? Was it that Rintel was coerced into fulfilling Hirschell's behest in order to retain the rabbi's favour? Did Hirschell pay him a personal retainer, possibly in order to provide kosher poultry for the rabbinic household?
As Hirschell accumulated considerable sums from stocks and shares and left a large estate of £14,000,[32] it is possible that (for some reason) Rintel was privy to the rabbi's financial affairs and may have even owed him money. Hirschell presumably agreed to Myer taking a position in Edinburgh and (later) to Moses becoming chazzan in Brighton.[33]
Now if Rintel wrote on his own initiative, did he expect community support? Did anyone take Bennett seriously? What was their view of the rabbi, who at least publicly was highly venerated? Hirschell must have had his critics. Writing after the rabbi's death, Moses Margoliouth asks in The Jews in Great Britain, "How did it happen that while the wise Solomon yet sat in the pastoral chair, many of those who trusted in him did lift up their heel against him?"[34] The community – irrespective of their professed respect for Hirschell – knew that the next rabbi had to be a different type. Many of the problems described by Bennett were tacitly admitted after Nathan Marcus Adler's appointment.
The major question is why Hirschell imagined that his problem would be solved by using a man who sounds like a mere nobody. Was Rintel really suited to be the chief rabbi's front man? Rintel's pamphlet expresses surprise that others have not sprung to the rabbi's defence; we ourselves from the vantage point of history are even more surprised that others had either abandoned Hirschell, or left him to battle on with minimal support. Earlier in this article the suggestion is made that Rintel had reasons for not wanting to lose Hirschell's favour.
It should be noted that there was a second attempt to reply to Bennett. A Hebrew work produced in Altona in 1817 was compiled by one Meir Hahn under the title of Shot Lashon (Whip of the Tongue) which might have been put together by Hirschell himself but attributed (like Minchat Kena'ot) to someone else.
Whatever the reasons, the Bennett controversy seems to have cemented the relationship between Hirschell and the Rintels, though some historians think Bennett and the rabbi eventually patched things up between them.[35] Myer's appointment to Edinburgh might have been arranged by the rabbi, who possibly also encouraged Moses to go to Australia in the 1840s.
Edinburgh, Newcastle and Brighton
Myer Rintel left London soon after publishing his booklet.[36] Maybe Hirschell feared that the use of Rintel had misfired, and suspecting that it had made the chief rabbi into almost a figure of fun, he thought it better for Rintel to be off the scene. Maybe there was community pressure and people were fed up with the saga of the chief rabbi's controversies and wise to Hirschell's apparent habit of recruiting well-meaning stooges like Rintel (and Hahn). Bennett said that Rintel fed the country, though what that means we do not know. Maybe Bennett thought the community was in a state of outrage and that Rintel had to disappear, but one doubts that the episode was really taken so seriously.
The fact that Rintel gained an appointment in Edinburgh[37] could mean that Bennett regarded Scotland as another country. It is possible that Rintel fed to the Continent first – maybe to Hamburg – and thereafter (maybe as a sop or peace offering on the part of Hirschell) was brought back and given the Scottish post. His Edinburgh incumbency was relatively short, but we wonder why. Did Rintel resign? Was he dismissed? Rev. Moses Joel who officiated in Edinburgh from 1818, but arrived earlier, seems to have replaced him.
By the end of the decade, a newspaper recorded a Jewish wedding conducted in Newcastle by Rev. Myer Rintel, who is now called "late of Edinburgh".[38] Though we wonder whether Rintel considered staying in Newcastle as their minister/shochet, we know from the 1841 and 1851 censuses that he returned to London as a Hebrew teacher.[39] Since he is not listed after 1851 we presume that he died some time in that decade. Moses, by now in Australia, had a son born in Melbourne in January, 1853, whom he named Myer – obviously in honour of his father, which means that the original Myer must have died a few months prior to that date – and communications took a lengthy period to arrive.
Myer himself remains something of a mystery and seems to have gone back into relative obscurity after leaving Edinburgh. He presumably resumed his shechitah of poultry in London as well as performing circumcisions and teaching children, though not necessarily at the JFS.[40] He was private tutor to Myer Davis (later an eminent historian, journalist and educationalist) but he does not seem to have written any more books (as author or amanuensis) or served anywhere as a minister. We do not know what he did with the memories of his moment of fame. It would have been good for posterity, including his own children, for him to have written his reminiscences. He probably told Moses some of his stories – but did Moses ever write them down? All we can do is to ask the questions; the answers remain elusive.
Sydney and Melbourne
It is fair to surmise that Myer encouraged his son to emigrate to New South Wales and to find work there. The opportunity came when on 15 September 1839 a congregational meeting in Sydney[41] resolved that "a competent Master be engaged to instruct them [the young] in the Mosaic Religion and in the ordinary and most approved courses of English education". Sydney took the natural step of writing to Hirschell seeking a schoolmaster able to assist in synagogue services. But exchanges of letters took many months. Hirschell was old and ill but either he or the London Great Synagogue authorities recommended Moses Rintel. Since Moses was born in 1823 or 1824, his childhood and youth would have been mostly spent on gaining an education, religious and general, presumably in London, as well as musical training from Dr Sulzberger.
When the Rintel family came back to London, Moses probably attended the JFS in Bell Lane near his home where he is likely to have been in the Talmud Torah section. Since special attention was given to advanced pupils he was probably a pupil-teacher, maybe his only pedagogic training. His first community position was as officiant, shochet, mohel and teacher in Brighton which had a more solid Jewish presence than the small Edinburgh congregation. After leaving Brighton, Moses went to Sydney in 1844, part of the new era which saw the opening of the York Street Synagogue on 2 April. He brought with him his father's circumcision register. After the first few entries he made in Sydney, he ceased using this book and began one of his own. He travelled widely to perform circumcisions. In Melbourne he replaced as mohel the "self-taught, tho' skilful" Isaac Lazarus Lincoln. The congregation authorised Rintel to charge a guinea per circumcision so long as he provided his services free for poor people. Myer presumably resumed milah in England after Moses's emigration, starting a new register which might still be extant.
We can assume Moses was well versed in religious subjects but wonder whether he was a match for his rival in Australia, Walter Lindenthal, formerly associated with the New Synagogue in London, who claimed to be a Professor of German and Hebrew. However, Sydney Jewry rejected Lindenthal in 1847 in favour of a school conducted by "W" Rintel and A Tighe for "instruction in the elements of Hebrew and English literature".[42] In Sydney, Moses was schoolmaster, assistant reader and a member of a Beth Din set up by the synagogue board, which later accepted that halachic rulings were beyond their capacity and sent Beth Din matters to London.
Lindenthal proceeded to Melbourne as a reader and teacher but was no more successful there than in Sydney. He was dismissed by the Melbourne Hebrew Congregation in September 1848, after which he went to Tasmania and probably then returned to England. Moses Rintel, on the other hand, remained in Melbourne for over three decades. In Melbourne in 1864 Moses formed an official Beth Din with the sanction of Chief Rabbi Nathan Marcus Adler, which indicates the level of Rintel's rabbinic knowledge. Rev. Samuel Herman of Ballarat was more learned, but his English was poor, so this was another factor that could have led to the choice of Rintel to form an official Beth Din.
The next part
The long and sometimes stormy Melbourne career of Moses Rintel has intrigued historians such as Rabbi LM Goldman, but no one has yet written a full biography. The next part in this article will address Moses Rintel's Australian career. I hope to make a contribution to the eventual production of a full biography, which would be highly desirable.
Acknowledgements
I am grateful to a number of people who have helped me with leads and information, especially Dr Kenneth Collins, Chaim Freedman and Rabbi John Levi.
Endnotes
1. No full biography has been written of Moses Rintel but there are many references to Moses Rintel in Joseph Aron and Judy Arndt, The Enduring Remnant: The First 150 Years of the Melbourne Hebrew Congregation, 1841–1991, Melbourne, MUP, 1992; Lazarus M Goldman, The Jews in Victoria in the 19th Century, Melbourne, 1954; JS Levi, "Rintel, Moses (1823–1880)", Australian Dictionary of Biography, National Centre of Biography, Australian National University, http://adb.anu.edu.au/biography/rintel-moses-4480/text7315, published first in hardcopy 1976, accessed online 16 February 2020; John S Levi, These are the Names: Jewish Lives in Australia 1788–1850, Melbourne, Miegunyah, 2006; and of course in the Australian Jewish Historical Society Journal.
2. Goldman, The Jews in Victoria; Morris C Davis, History of the East Melbourne Hebrew Congregation 'Mickva Yisrael' 1857–1977, Melbourne, 1977.
3. The Australasian Hebrew, 22 November 1895.
4. Goldman, The Jews in Victoria, ch. 15: "The Precedence of Ministers".
5. One Hundred Years: The Story of the Melbourne Hebrew Congregation 1841–1941, Melbourne, 1941, seems to rely on anecdotage in this respect. Aron and Arndt, The Enduring Remnant, correct this information but they say he was born in 1824.
6. David J Benjamin, "Essays in the History of Jewish Education in New South Wales", AJHS Journal, vol.4 (1955), pp.29–53, 116–29.
7. Rintel's family connections are detailed in Levi, "Rintel, Moses (1823–1880)" and in an email to me by Rabbi Levi, 23 June 2015.
8. The Sulzberger claim is made in obituaries of Moses Rintel in the Jewish and general press.
9. Levi, "Rintel, Moses (1823–1880)".
10. Information from Chaim Freedman. On the survival of Myer's milah register see https://www.kestenbaum.net/auction/lot/auction-38/038-270/
11. My searches could not locate a reference to Rintel in London synagogue marriage records. It is possible that Rintel married in Poland before coming to England.
12. Arthur Barnett, "Solomon Bennett, 1761–1838: Artist, Hebraist and Controversialist", Jewish Historical Society of England Transactions (JHSET), vol. 17 (1951–2), pp.91–111; Arthur Barnett, The Western Synagogue through Two Centuries (1761–1961), London, JHSE/Vallentine Mitchell, 1961, ch. 3. Bennett's papers are held by the London School of Jewish Studies.
13. Ibid.
14. Sefer HaYovel Tiferet Yisrael: Essays Presented to Chief Rabbi Israel Brodie, London, Jews' College, 2 vols, 1966.
15. Myer Rintel, Minchat Kena'ot, London, 1817, esp. sec. 6; David B Ruderman, Jewish Enlightenment in an English Key, Princeton, NJ, Princeton University Press, 2000. Karaites (B'nei Mikra, Scripturalists) claimed to follow Biblical laws without the rabbinic additions.
16. Though the early Reform congregation in London claimed to follow only Biblical institutions, they allowed themselves some inconsistencies. DW Marks spelled out the quasi-Karaite case in his inaugural sermon on 27 January 1842; see Raymond Apple, "Professor Marks and the Oral Law Controversy", lecture at Australia & NZ Jewish Studies Conference, 2008.
17. Probably in order not to jeopardise gentile support for Jewish emancipation, Cohen seems to be deliberately vague about Jewish attitudes to Christianity.
18. Rintel, Minchat Kena'ot.
19. Barnett, Western Synagogue, p.52.
20. Bennett's criticisms are spelled out in a (rare) work, The Present Reign of the Synagogue of Duke's Place, London, 1818.
21. In 1970 I made photocopies of the Kabbalah Book of London (a register of signed undertakings by shoch'tim appointed all over England) and other Beth Din records housed at the Jewish Theological Seminary of America library. Rintel had not signed an undertaking because this procedure was not instituted until 1823.
22. Charles Duschinsky, The Rabbinate of the Great Synagogue, London, Oxford, OUP, 1921. Duschinsky quotes from the vituperative language used by Bennett and Rintel against one another, including Rintel's observation, "I know the mind of our revered Rabbi well" (p.145) which may indicate a close friendship between Rintel and Hirschell.
23. MH Picciotto, Sketches of Anglo-Jewish History, ed. Israel Finestein, London, Soncino, 1956. Picciotto devotes very little space to Bennett.
24. Voice of Jacob, 11 November 1842.
25. Barnett, Western Synagogue, p.53.
26. As quoted in Arthur Barnett, "Solomon Bennett…", Jewish Historical Society of England Transactions (JHSET), vol. 17 (1951–2), pp.104–5.
27. None of the accounts of the controversy clearly explains the story of the engraving.
28. In comparison with Hermann Adler, a later chief rabbi, Hirschell was a poor polemicist, but allowance has to be made for the Jewish fear in England previous to parliamentary emancipation that Jews should not act in any way that might present Jews and Judaism in a poor light and offend gentile susceptibilities.
29. There seems little doubt that Rintel was only a front man who affixed his name to Hirschell's material.
30. Cecil Roth, The Great Synagogue, London, 1690–1940, London, Goldston, 1950, p.188.
31. Voice of Jacob, 11 November 1842; Jewish Chronicle (JC), 18 October 1844.
32. Hyman A Simons, Forty Years a Chief Rabbi: The Life and Times of Solomon Hirschell, London: Robson, 1980; Raymond Apple, "Solomon Hirschel, 'High Priest of the Jews'", Rabbi LA Falk Memorial Lecture, The Great Synagogue, Sydney, 2006.
33. David Spector, "The Jews of Brighton, 1770–1900", JHSET, vol. 22 (1968–9), pp.42 et seq.
34. Moses Margoliouth, The Jews in Great Britain, Vol. 3, London, Bentley, 1851, p.282. Margoliouth was a Christian clergyman who had begun as a Jew. He was a noted traveller, writer and scholar, and supported Jewish emancipation.
35. Alfred Rubens, "Early Anglo-Jewish Artists", JHSET, vol. 14 (1935–1939), pp.114, 116.
36. According to Bennett, Rintel fed from England, presumably because the community was annoyed with him. This sounds like mere egotism and spite on the part of Bennett.
37. The records of Scottish Jewry are ambivalent about whether Rintel was the official minister of the Edinburgh congregation. Little is known in Scotland about Rintel.
38. Newcastle Courant, 24 September 1828. On the history of the Jews in Newcastle, see also Louis Olsover, "Absent from Shul: One Shilling Fine", JC, 12 September 1980.
39. Presumably he also resumed work as a shochet.
40. Gerry Black, JFS: The History of the Jews' Free School, London, since 1732, London, Tymsder, 1998, p.161.
41. AJHS Journal, vol. 1 (1939), pp.23–4.
42. MH Kellerman, "Walter L Lindenthal: A Critical Study", AJHS Journal, vol. 3 (1950), pp.109–20.