The following obituary by Rabbi Raymond Apple appeared in The Jewish Chronicle (London) on 14 March, 1997.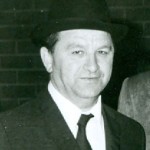 Born Halmin, Romania, 18 April, 1923. Died Sydney, Australia, 21 February, 1997, aged 73.
For 25 years, until his retirement in 1989, the Rev Isidor Gluck served the Great Synagogue, Sydney, as chazan and minister.
In his youth, he studied at a number of yeshivot, including those at Klausenberg, Viznitza and Bukovina, and trained in music at the conservatoires of Bucharest and Vienna.
After serving as chazan for three years in Kleinwardein, Hungary, he went to France and was reader of the Rashi Synagogue in Paris.
He was later appointed chazan of the Hendon Adath Yisrael congregation in North-West London, and subsequently officiated at the Dublin Hebrew Congregation for 13 years, before settling in Sydney.
His appointment to the Great Synagogue was on the personal recommendation of the then Chief Rabbi, Dr Israel Brodie, who had himself occupied a pulpit in Australia.
Rev Gluck endeared himself to his congregants not only through his impressive voice, expert musicianship and deep Jewish faith, but also through his warm, friendly personality and his understanding of people's problems.
He was a loyal and lovable colleague who served the congregation with heart, soul and might. He combined boundless kindness and irrepressible energy with deep Jewish knowledge and wide experience.
As a chaplain, he paid regular visits to many metropolitan hospitals and prisons. When he retired from the latter work, he received a special award from the state's corrective services department as the longest serving prison chaplain in New South Wales.
Rev Gluck taught many bar-mitzvah boys, and also trained young people to take part in synagogue services. He regarded all his pupils as members of his extended family and called them "my boys" even when they had grown up.
He and his wife kept an open house and welcomed literally hundreds of guests to their Shabbat and festival table, making friendships that spanned the globe. Mrs Gluck, to whom he was married for almost 50 years, died just before Pesach last year.
All four of their sons followed in their parents' tradition of community service. Johnny, who died in 1985, aged 36, was a chazan in London and Johannesburg; Harry is an educator and former minister in Melbourne; Joseph, a Sydney accountant, is a former chazan at South Head Synagogue, Sydney; and Nathan is a chazan of the Golders Green Beth Hamedrash.
See also:
– Eulogy for Rev. Isidor Gluck
– Rev. Isidor Gluck – a tribute