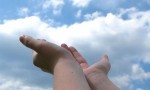 The Book of Lamentations (Echah) 2:5 says, "God has become an enemy".
It reminds us of the beginning of Psalm 22 which asks, "My God, my God, why have You forsaken us?"
Feeling that events too horrific to handle have blackened our lives, we fear that even God has let us down and we cannot see any support or relief coming from Him.
We can't possibly understand or explain how bereft and abandoned God has made us feel.
Do we realise how bad He Himself must feel when some of His children have defied Him so cruelly whilst others think He doesn't care about them anymore?
There is a time when He can only help us if we try to help Him.
No wonder Etty Hillesum, about to be deported from Amsterdam in July 1942, said, "I shall try to help You, God, to stop my strength ebbing away. We have to safeguard the little piece of You, God, in ourselves. We must help You and defend Your dwelling-place inside us to the last…"