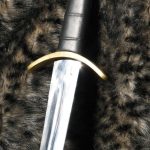 One of the promises if Israel obeys God is that no sword will go through their land (Lev. 26:6).
Every Israeli dreams of this happening – no more terrorism, or incitement.
The historian Lewis Namier said, "There must be a country where Jews can live, work and amuse themselves as they please, be good, bad, great or ridiculous. If we shall become altogether humdrum and mediocre, that, too, will be our affair, but our children will have a better life – and this suffices".
If only our neighbours would realise that they too really want to have a good life without eruptions and conflicts…
What do we say about that part of the verse that says we must follow the Divine rules?
It doesn't say you have to change your way of life all of a sudden. Gradually accustoming yourself to more Judaism is the better way.
Once people start taking the first tentative steps it becomes more and more convincing, more and more practical, more and more attainable.