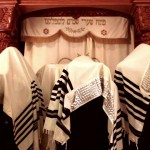 The priestly blessing – "The Lord bless you and keep you" – is a major feature of the Jewish liturgical tradition. Enunciated in this week's sidra (Num. 6:23-27), it is invoked on the people by the kohanim.
Its scope has broadened and we encounter it on a range of occasions. It is customary to use the words when blessing children on Erev Shabbat, when launching a bride and groom into Jewish marriage, when wishing other people well.
Personally, I even used it on an occasion in Australia when meeting Pope John Paul II, who was probably more used to giving blessings than receiving them. He was such a remarkable spiritual leader that I saw nothing inappropriate in invoking the hallowed words upon him.
No translation can ever convey the exact meaning of the words (there is a saying, "A translator is a traitor"), but the generally accepted view is that we are asking three things from God – material support and protection, a generous attitude, and intellectual understanding.
Why does the text use the Tetragrammaton, the four-letter Divine name (yod-hey-vav-hey) and not the title which we often render as "God"?
The "God" title is understood by the rabbis as representing the Divine Judge, whereas the Name we have here symbolises the loving Lord of mercy.
The blessing we seek from Him is personal and loving.