Q. Why did you become a rabbi?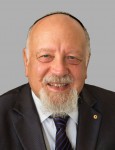 A. My answer inevitably relates to Australia where I was brought up, so readers without an Australian connection will have to forgive me.
I came under the influence of two impressive mentors – Dr Samuel Billigheimer, the German professor who introduced me to Jewish study, and Rabbi Jacob Danglow, whose synagogue I attended from early childhood.
From the one I gained a fascination for Jewish ideas, books and observance and wanted to delve further, without necessarily acquiring a rabbinic title. From the other I derived an interest in spiritual and community leadership.
In time I came to my own decisions about the rabbinic role and worked out my own priorities, not necessarily following all the rabbi's ways and views.
In both I saw religion and urbanity combined in Torah-im-Derech-Eretz, the synthesis of Jewish and worldly culture. Billigheimer gave me the intellectual roots of this approach, linking it to Maimonides.