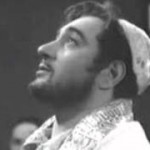 There is a fresh burst of energy for the closing service, Ne'ilah.
Father Aimé Pallière summed it up by speaking of the Jewish theology of hope.
The day is almost over. The world outside awaits us. Not for banal reasons such as resuming eating and drinking but because it offers us a new opportunity for goodness and justice.
Pallière contrasted Judaism with Christianity. The Jews, he said, turned towards the future rather than, as in Christianity, to the past. Jews always seem to be waiting for something.
That's the mood of Ne'ilah.