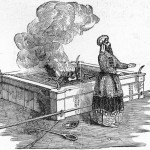 Many occasions were commemorated in Temple times by the bringing of sacrifices.
Some were individual: others were communal. The sacrifices marked sad experiences like guilt and the commission of sins, or happy occasions such as times of joy and celebration.
The Torah explains the what and how of sacrifices but has little to say about the theological question of why.
Actually the question has two parts, sacrifice as an aspect of joy, and sacrifice as an aspect of guilt and sorrow.
In time of joy, a person or nation says, "God, Your blessing gave me success: I acknowledge Your gift!"
In time of guilt and sin, we are not saying, "God, You made me sin, You caused my wrongdoing. It's Your fault I am in this predicament!" That would be to abdicate all personal responsibility for one's deeds.
Instead, the message may be, "God, You told me what to do and I failed to obey. I realise that You were right and I was wrong. My sacrifice is a symbol of my regret, a token of my yearning to return to Your favour!"'