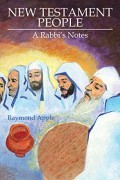 NEW TESTAMENT PEOPLE:
A RABBI'S NOTES
ISBN 9781524629946
Raymond Apple
AuthorHouse, 2016
This book discusses some 98 themes in the New Testament and Christianity and shows how Jesus and the early Christians can only be understood against a Jewish background.
Rabbi Apple never resiles from his own faith and commitment, but his book will advance the cause of mutual respect.
The book also features pen-and-ink drawings by David Wansbrough, a Sydney- and Moscow-based poet and exhibiting artist.
An excerpt from the author's preface:
Kohelet's statement (12:12), "Of the making of many books there is no end", certainly applies to Christianity. So many authors have addressed the subject over the centuries, including a handful of Jews. Is there room then for one more Jewish writer? Wisdom might have suggested the answer "No".
Still, I decided, not without qualms, to address one part of the story – the Jewish connection of some of the fascinating cast of figures who people the New Testament narrative, especially the Gospels.
Although I have spent years in inter-community work I am no expert in NT scholarship. Indeed there are many reasons for a rabbi not to involve himself in this area.
The NT is a Christian, not a Jewish work, though many of the authors were Jews; the very name "New" Testament has overtones which Jews find offensive because it implies a denigration of Tanach, the Hebrew Scriptures.
Jews have suffered unbelievable torment from the so-called "religion of love", bearing insult, persecution and pogroms and constantly refusing to purchase their life by becoming religious turncoats.
There is still a feeling that Jesus was a Christian who worshipped in a church. In fact he was a Jew who would be more at home in a synagogue than a church. Whatever later became of the religion about Jesus, the religion of Jesus was Judaism. Whatever others made of his life, death and teachings, he himself believed he was within the Judaism of the time.
Modern scholarship seeks to locate him believably in Judaism and then explain how the movement broke with the mother faith. It is harder than it sounds. The cusp is Jesus' words, "The time has come: the kingdom of God is upon you" (Mark 1:15).
Questions arise – was a new age really there, what would happen, what would change, what would remain, where would the gentiles fit in?
Christianity was founded on the idea of a new dispensation; Judaism was wary, insistent of waiting whilst remaining faithful to the norms of tradition.
This book is intended as a contribution to dialogue. Dialogue requires the capacity to listen, not just to speak; to whisper, not to shout; to see in the other the face of a friend.
There is dialogue when we uphold our own truth but still share information and have room and respect for each other.
The book's chapters:
Abraham; Agrippa; Ananus; Andrew; Angels; Anna; Apostles; Barabbas; Bar-Jesus; Barnabas; Bartholomew; Bartimaeus; Beelzebul; Caesar; Caiaphas; Christians; Claudia; Cornelius; Dorcas; Elijah; Emmanuel; Essenes; Gam(a)li'el; Gentiles; God; Gog and Magog; Good Samaritan; Greeks; Herod; Herodias; High Priests; Hypocrites; Isaiah; Israel; James, "Brother" of Jesus; Jesus; Jews; John; John the Apostle; John the Baptist; Joseph; Joseph of Arimathea; Judas the Galilean; Judas Iscariot; Jude; Jupiter; Kings; Lazarus of Bethany; Lucifer; Luke; Malchus; Mark; Martha; Mary Magdalene; Matthew; Melchizedek; Messiah; Minim; Moses; Nicodemus; Paul of Tarsus; Pharisees; Philip the Apostle; Philip the Deacon/Evangelist; Pontius Pilate; Priests; Prodigal Son; Prophets; Publicans; Quirinius; Rabbis; Romans; Sadducees; Saints; Salome; Samaritans; Sanhedrin; Satan; Scribes; Shiloh; Silas; Simon Magus; Simon Peter; Simon the Leper; Son of God; Son of Man; Stephen; Suffering Servant; Teacher of Righteousness; Theudas; Thomas; Timothy; Titus; Virgin Mary; Zaccheus; Zacharias; Zealots; Zebedee.
The softcover and ebook editions of New Testament People: A Rabbi's Notes are available from Amazon, AuthorHouse, The Book Depository (free worldwide shipping), and elsewhere online. Selections from the book can be previewed on Google Books.
See also "Why I wrote New Testament People"