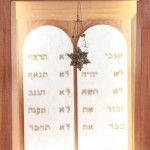 Chapter 5 of D'varim repeats the Ten Commandments, which first appear in Sh'mot chapter 20.
Between the two versions there are some – generally minor – linguistic changes. One change is found in the preliminary section, in verse 5, which speaks of God's "word" (singular), where the first version of the Decalogue has the plural, "words" (Ex. 20:1).
Maybe the change has no real significance, but maybe it does. It could indicate that there are two ways of viewing the Ten Commandments – as ten separate rules, each one important in itself, and as one overall total message.
In the second case we see the Ten Commandments as interconnected, all part of one whole.
This indicates that when a person says, "I keep the Ten Commandments", they are saying two things – one, "I live by each individual command", and two, "The Decalogue is a total statement to which I pledge my whole commitment, without ifs, buts and howevers".