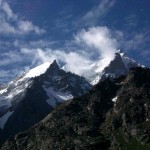 When the Israelites said Na'aseh v'nishma, "We will do and we shall hear", they are seen by the sages (Shab. 88a/b) as on a peak of spiritual understanding.
Metaphorically they ascended a mountain, echoing the title of this week's reading, B'har ("On Mount Sinai").
Through Na'aseh v'nishma they committed themselves in advance to obeying God's word ("We shall do") before hearing all the details ("We shall hear"). The rabbis say that this made them like the angels.
It's like a person who says to another, "I want you to promise me something". The answer is quite understandably, "How can I promise something if I haven't heard all the details, and if I'm not certain it is within my power!"
In relation to God, however, the Israelites trusted in the Divine wisdom to such an extent that they knew He would never ask something of them which they were unable to fulfil.