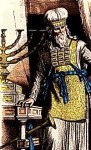 Some years ago, admirers of the late Rabbi Kopul Rosen published a book in his honour.
It contains a chapter by Rabbi Louis Rabinowitz who reports how shocked he was when young Kopul Rosen told him that as guest preacher at Rabinowitz's synagogue in London he proposed to speak about the high priest's trousers.
Actually Rabbi Rosen could speak on any subject with great effect and Rabbi Rabinowitz need not have worried.
The story comes to my mind because of a Midrashic comment on the haftarah for Chanukah. The haftarah is from Zechariah, who sees Joshua the Kohen Gadol standing in the company of the accuser (Satan) whilst wearing filthy garments (Zech. 3:3).
Ibn Ezra says that the elaborate kohen's robes were not used because the economic distress of the time had plunged the people into poverty. Targum Yonatan says that there was a stigma attached to this particular high priest because his sons had formed forbidden marriages (Ezra 10:18).
The high priest's trousers symbolised the fact that a massive task of rehabilitation awaited the leaders of the people. Satan was there in order to accuse the kohen of condoning the people's sins including his own.
According to tradition an ineffectual high priest bore the blame for the errors and iniquities of the people.