Q. Who wrote Ma'oz Tzur?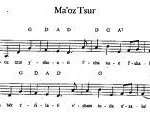 A. The initial letters of the first five stanzas yield the acrostic Mordechai, indicating an author named Mordechai who lived in Germany in the early 13th century.
Which Mordechai it was has not been established. There is a theory that he was Mordechai the son of Isaac, author of a Sabbath song called Mah Yafit.
The sixth stanza (Chasof Zero'a Kod'sh'cha), if it is authentic, begins with the three letters of Chazak (Be Strong!), following a style that often appears in medieval religious hymns to produce an acrostic that reads "Mordechai, may he be strong".
The melody imitates a medieval German folk tune deriving from Protestant sources in the 15th century. The hymn suggests the persecutions of the Crusades and the sixth verse cleverly alludes to Christianity, one of very few Christian references in the Jewish prayer book.
In recent centuries a number of authors have drafted additional verses for Ma'oz Tzur, but none has become as widely accepted as the original five or six-stanza text.
The existing sixth stanza, in common with the newer versions, culminates in a prayer for the messianic redemption.
One new verse composed by Morey Schwartz in Israel reads in translation:
Two thousand years of memory
Never losing our hope in destiny
Age after age, in many a land
We raised our eyes to Zion's sand
We are back in our ancient home
Our dispersed can come
State and people, we shall fulfil our dream.