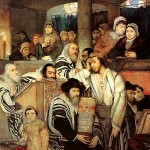 20th century British publishing was largely in the hands of a range of outstanding individuals. Amongst them was Sir Victor Gollancz, about whom much could be said.
His uncle, Sir Hermann Gollancz, was rabbi of the Bayswater Synagogue in West London for many years, and Bayswater (and its toilets) figures considerably in Victor Gollancz's writings.
One of the Jewish things which Gollancz found unpleasant was Yom Kippur, whether at Bayswater or anywhere else.
In "My Dear Timothy" he describes how the approach of Yom Kippur filled him with malaise and when it arrived he yearned that it would soon be over and he could breathe again and be free.
It took him a long while to understand why he was so desperate for that freedom.
Probably what aggravated him was the calendar-induced feelings of guilt that held Yom Kippur Jews in its thrall. He had problems with saying over and over again a litany of confessions which had no real relation to him or others around him.
His problem with guilt and confessions is probably widespread, but that doesn't mean that the confessions ought to be abolished. They are general enough to cover most of the dubious attitudes that govern people's lives, and even if some of the list do not apply to a given individual, the fact that such issues exist anywhere in our society is good enough reason to say, "We're all in this together", and whether or not a Gollancz or anyone else has committed a particular act, no-one can escape a certain degree of responsibility.
Of course if you or I were Gollancz we might find other things to criticise about Yom Kippur, and that's precisely the sort of self-wrestling that should occupy our attention during the fast.
We ought to be asking, "If I don't like Yom Kippur, what can I put in its stead?"