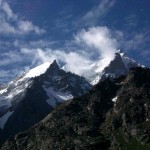 Speaking of Z'vulun and Yissachar, Moses says, "They invite the nations to the mountain, where they offer sacrifices…" (Deut. 33:19).
"The nations" could denote the other Israelite tribes; it could also denote the surrounding peoples.
In either case it seems likely that this is a prophecy of the end of days when, as the great Isaiah put it, "Many peoples shall go and say, 'Come, let us go up to the mountain of the House of the Lord" (Isa. 2:3-4).
Why is it precisely the two tribes of Z'vulun and Yissachar who have the privilege of calling the nations to worship on God's holy mountain?
Perhaps to show that thanksgiving offerings in the sanctuary are especially appropriate for people who have earned success – either in a material or a spiritual/intellectual sense.