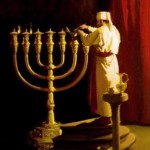 Chanukah and Sukkot have so much in common that Chanukah seems like a replacement for Sukkot.
The final year of the Maccabean struggle was so hectic that it was impossible to celebrate Sukkot properly.
After the fighting the missed festival was observed in delayed form on the precedent of the Second Pesach ordained in the Torah for those who were prevented from observing the first.
The Second Book of Maccabees says, "It was like the Feast of Tabernacles. They carried garlanded wands and branches with their fruits, as well as palm fronds, and chanted hymns."
Some even say that the kindling of lights replaced the juggled torches of the Festival of the Water-Drawing, Simchat Beit HaSho'evah.