Q. Why do we say Yeyasher Kochachem to the kohanim after they have blessed us?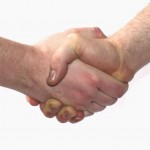 A. One might think no expression of thanks is necessary since it is a God-given duty to bless the people. But what we say is not really "Thank you" but "May your strength increase", i.e. "May you carry out your task many times in the future".
Others add that a kohen could have chosen any synagogue in which to pronounce the blessing, so we appreciate his choice of this synagogue and this congregation. Some say that there is always a doubt as to whether a person really is a kohen and our greetings imply that we accept his assumption of the kohanic role.