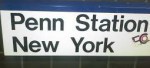 The plea that we should not be tempted into sin is not only found in the Jewish prayer book, but in other faiths too.
Children of a certain different religion who were supposed to say, "Lead us not into temptation" are on record in New York as saying, "Lead us not into Penn Station!"
The whole subject – naturally in more serious form – comes into this week's Torah portion, where we see that Joseph, the handsome Hebrew youth, was constantly tempted by the wiles of the wife of his employer Potiphar (Gen. 39). The wife's name is not given in the Torah but according to tradition she was called Zulaikha.
The young man must have found her very difficult to resist, and the Torah story shows that in the end he had no choice but to rush out, though leaving his cloak behind.
The sages of the Talmud (Yoma 35b) reconstruct the conversation between Joseph and Potiphar's wife.
When she threatened to lock him up, Joseph replied, "God loosens the bound". When she said she would torture him, he said, "God raises up those who are bowed down". When she said she would pluck out his eyes, he said, "God gives sight to the blind".
Whatever she said, he found in God a strength and support. So it is, the Talmud tells us, with anyone who faces temptation: their belief in God gives them the power to resist.
The Zohar says, "In the messianic age, the Holy One, blessed be He, will slay the Tempter before the eyes of the righteous, and temptation will cease for ever".
The rabbis say in Pir'kei Avot, "Who is the hero?" Their answer? "He who controls his passions".