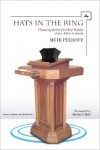 HATS IN THE RING: CHOOSING BRITAIN'S CHIEF RABBIS FROM ADLER TO SACKS
By Meir Persoff
Academic Studies Press, 2013
Review by Rabbi Raymond Apple published in the Australian Jewish News, 20 December, 2013.
Meir Persoff has written a series of books about Britain's chief rabbis. This is the fourth book in the series. Taken together they present the background, developments and personalities involved in a unique religious institution. The office of chief rabbi in Britain has a unique flavor. Like many British institutions it just grew, reflecting a need that was felt in those days, and over time it became the Jewish equivalent of the Archbishop of Canterbury.
Persoff is a painstaking historian with access to amazing sources of information, not only because he worked for the London Jewish Chronicle for forty years but because he lived through and documented many of the happenings he chronicles and has a broad network of contacts from whom he was able to glean much of the inside story. Added to this, he is a lucid writer and there is hardly a word out of place in this as in his previous books.
For egotistical reasons I looked myself up in the index and found two main references which both seem to suggest the characteristic features of the selection process that produced the succession of British chief rabbis.
One reference reports that when Lord Jakobovits was about to retire, somebody put my name on the list of possible successors. This happened without anyone telling me, and I am grateful that I had a lucky escape when the eventual shortlist omitted me. What this aspect shows is that (apart from the latest appointment, following Lord Sacks' retirement) the post was never advertised and names just happened to come up in discussion.
The second reference quotes my pulpit remarks when Rabbi Brodie retired when I said that the selection committee should not be limited to laymen and that the elected president of the United Synagogue rabbinical council should be regarded as chief rabbi, holding office for no longer than five years.
There has been a consistent anomaly over the years in that laymen chose the chief rabbi, though they did sound out certain rabbis at some point without being bound by the advice they received. I do not deny that the eventual choice of chief rabbi usually proved a success, and the chiefs grew into the job and grew it, but the selection committee should have comprised both rabbis and lay people.
It is also strange that chief rabbis had the job for life, though from Rabbi Brodie onwards there was a retiring age. Life tenure carries with it the risk of a chief rabbi getting too tired, and it denies the community the talents of other rabbis.
There is a story to be written about the chief rabbis that Britain never had. Norman Cohen did this about Samson Raphael Hirsch, who was defeated for the post in the 1840s. I personally have written on Moses Hyamson, who lost to JH Hertz. Someone should write about what sort of chief rabbi Kopul Rosen would have been had he won in the 1940s, what sort of chief Jacob Herzog would have been if he had not turned down the job in the 1960s due to ill-health, and about Cyril Harris, who was a or the front runner in Britain until the lay leaders suddenly dropped him in favour of Sacks.
Implicit in Persoff's book is a problem which he spelt out in an earlier work, that British Jewry is no longer a relatively homogeneous Centrist Orthodox community. How can a Centrist Orthodox chief rabbi speak for a widely varied community? How can he be everyone's chief rabbi when segments on the left (and to some extent the right too) reject his writ, differ from his views and policies, and play no part in appointing him?
I heartily commend Persoff's book, but I do see a major flaw. Neither this nor the earlier works in the series offers a comparison with other places that have chief rabbis. Israel has two chief rabbis, and Israeli society is increasingly advocating that there should be only one (or none at all), but are there any analogies between the Israeli and British models? How about France, Poland, Russia, South Africa, etc.? On the other hand, is there some reason why the United States manages without a rabbinical chief?
Why did I (and some of my colleagues) oppose the creation of an Australian chief rabbinate? Not just because of lingering apron strings that reflect the colonial past of the Antipodes: it has something to do with the nature of the community and its rabbinate. The more I think about it, the more I know what book Persoff should write next – "The Chief Rabbis We Never Had".
In the meantime, Hats in the Ring should be bought, read, digested and enjoyed.