Revised version of a Rabbi Falk Memorial Lecture delivered by Rabbi Raymond Apple at the Great Synagogue, Sydney, in 1984.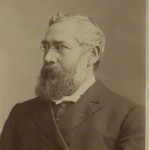 Simeon Singer was British Jewry's "beloved minister", equally at home in pulpit, classroom and library, and above all amongst people.
The memory of his personality has faded and the generation that knew and revered him has gone, but his great achievement, the Authorised Daily Prayer Book, lives on. First published in the 1890s, it went through many editions, and was rarely known by any other name than the Singer Siddur – colloquially, Singer's.
Historians consider him a representative figure of Minhag Anglia, "the English usage", though the current edition of the Singer Siddur is probably the first to describe itself as the embodiment of that minhag.
The ministers who embodied Minhag Anglia were known more for their pastoral work and preaching than their scholarship, though Singer had a more scholarly bent than many of his colleagues. Apart from the Siddur, three volumes of sermons, addresses and studies are his literary monument, published thanks to his son-in-law Israel Abrahams, who collected and redacted the material and wrote a memoir of Singer.
Singer's father was a Hungarian patriot, his mother a cultured Englishwoman from Hamburg. Simeon, their youngest son, was born in London on 5 November, 1846. Gaining part of his education in Hungary, he learned German and eventually became totally adept in that language. To get him started on his studies, his mother travelled to the Continent with him – but tragically, she succumbed to cholera and was dead within 24 hours. When Simeon eventually returned to England, he was still in a state of shock. Due to the family tragedy, his father lost heart and his business declined. As a result, life was a financial struggle for Singer throughout his time at Jews' College School and then at the College itself.
The College principal, Michael Friedlander, took a kindly interest in young Singer, who whilst still a student became in 1867 part-time minister of the Borough Synagogue in South London, combining that office with teaching at Jews' College School, where he was for a time headmaster (at that stage the College had a day school under its wing). Most of Singer's wide Jewish learning and rabbinic scholarship came through his own assiduity; he also cultivated languages and the arts and was one of the most cultured of Anglo-Jewish ministers.
Despite his youth he had a warm relationship with his congregants at the Borough Synagogue, most of whom were much older than him. They admired his ability as a speaker and teacher and appreciated his pastoral concern for their welfare. As this was the formative age of the Anglo-Jewish ministry he had few models on whom to base himself: he himself became the model. His wife Charlotte (nee Pyke) shared in all his efforts, and from the day of their marriage in 1868 a palpable spirit of affection marked their union and their home. Together they paid regular visits to hospitals and prisons and supported all the philanthropic endeavours of the district. They spent eleven years at the Borough and remained close friends with their early congregants even after moving elsewhere.
1879 brought Singer to the pulpit of the prestigious New West End Synagogue in Bayswater, then newly established and occupying an ornate cathedral-like building in St Petersburgh Place, W2. Between his two congregations there was a significant socio-economic divide, but Singer bridged it with great success. Whilst most of his people at the Borough had been poor tradesmen, at the New West End the congregation contained the gentry of the community. In Bayswater as at the Borough he and his wife became an integral part of their congregants' lives and families.
He conducted their marriages and funerals, often officiated on Sabbaths and festivals as chazan, gave thoughtful weekly sermons to which he devoted hours of preparation, taught admiring classes of young people who treasured and consulted his lesson notes for the rest of their lives – even in adulthood and old age – and visited and addressed communities all over the metropolis and beyond. Constantly active in many public causes, he never allowed his congregation to suffer from his outside interests. The Synagogue was his top priority at all times.
Singer's fame was such that after Nathan Marcus Adler died it was suggested in the community that he become the West End's coadjutor chief rabbi, holding office in conjunction with Dr Hermann Adler. It was not a practical proposal, and Singer rejected it.
At a time of religious restlessness he and a group of other "establishment" ministers saw some value in the Jewish Religious Union founded in 1902, even though he disapproved of the Union's rejection of orthodox principles and practices. But he and his colleagues withdrew at the request of Hermann Adler in 1903 whilst remaining on good personal terms with the leaders of the new movement, which soon evolved into the Liberal Jewish Synagogue.
His orthodoxy was axiomatic and his loyalty to the commandments impeccable, though he was no extremist. He favoured a mild degree of liturgical reform including mixed male-female choirs, allowed himself to preach at the Manchester Reform Synagogue, and hailed some of the controversial writings of Claude Goldsmid Montefiore as "a powerful aid against unbelief". He did not support the critical attitude to the Biblical texts, but in his own way, as Israel Abrahams points out, he had some sympathy for the idea of progressive revelation whilst not greatly attracted to extended theological debate.
He dearly wished to gain full rabbinical qualifications, not for self-aggrandisement but because he felt that English ministers should have the opportunity of ordination and that Anglo-Jewry should place a higher value upon traditional learning. He studied relentlessly and was ordained by Lector Isaac Hirsch Weiss of Vienna, author of the classical history of rabbinic tradition, Dor Dor v'Dor'shav. Singer visited the Continent often and spent much time either with Weiss or following by himself the course of studies which the latter had mapped out.
On returning to England with his diploma, Singer, unlike his colleague and neighbour Hermann Gollancz, did not boldly confront the establishment with a demand that his title be changed to "Rabbi", and he continued to be called "Reverend" to the end of his days.
He was friendly with Theodor Herzl, who records in his diary that he addressed a meeting at Singer's Bayswater home, where he introduced to an influential group of British Jews the theme of his Jewish State. Singer believed in the restoration of Israel to the Promised Land but nonetheless had doubts about political Zionism. He did not, however, go so far as to share Hermann Adler's denunciation of Zionism as "an egregious blunder".
The crowning glory of his scholarly career was the Singer Siddur. In a sense it is also the crowning glory of Minhag Anglia. It provided English-speaking Jewry with a Jewish equivalent of the Anglican Book of Common Prayer – an "authorised" prayer book which, though utilising Seligmann Baer's Seder Avodat Yisra'el, established a standard set of prayer texts and liturgical usages, accompanied by an English translation which echoed (but also sometimes corrected) the King James Bible. Others before Singer had translated some of the liturgy including the festival prayers – his most notable predecessors were David Aaron de Sola and Abraham Pereira Mendes – but none produced so comprehensive a work couched in such elegant English.
Singer's achievement was of historic proportions in the Anglo-Jewry of the time. It was introduced in the preface with the statement, "A complete Daily Prayer Book, in Hebrew and English, has never yet been within the reach of the community at large". This latter phrase, "within the reach of the community at large", tells us three things – the book replaced a range of inadequate predecessors; it unified the community under Minhag Anglia; and it was financially affordable. The whole project was sponsored by Mrs Nathaniel Montefiore, enabling the book to be sold at no more than one shilling per copy.
Singer had planned a companion volume which would provide historical and devotional explanations, as well as the text and translation of the Sabbath table hymns (Zemirot). This never eventuated during his lifetime and it was Israel Abrahams who eventually produced the book.
Most subsequent revisions of the Siddur made only minor changes to Singer's work, at least until the time of Chief Rabbi Jonathan Sacks, when a thorough-going re-translation was produced.
Despite his communal preoccupations, Singer somehow found time for sustained scholarly research and writing. His volume of studies is evidence of his academic capacity. His masterly address to the Jewish Historical Society of England on the history of prayers for the ruler is a seminal contribution to British as well as Jewish history. He could be academic when necessary, but not in the pulpit. Academic sermons would have gone over people's heads. His sermons were addressed to real people and real problems, though he made sure that whatever he said in the pulpit could be backed up academically.
For him the preacher was a shepherd who guides his flock and gives them what he called "a spirit of friendly, if possible even of warm and generous, encouragement" and does not confront them with a situation in which "their very heart sinks within them". He believed in the verse, "I will give you pastors after mine own heart, and they shall feed you with knowledge and understanding".
When he died in 1906 every section of the community paid tribute to the way he had lived by his own ideal.