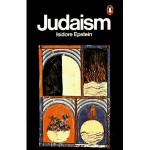 JUDAISM: A HISTORICAL PRESENTATION
By Isidore Epstein
Published by Penguin (many reprints)
Reviewed by Rabbi Raymond Apple
This book first appeared under the Penguin imprint half a century ago and has been constantly reprinted.
The history of the book is in itself fascinating. Dr Epstein had been asked for a general book on Judaism, but he had already produced more than one work of this kind for other publishers, so he offered to write a history of Judaism itself and Penguin accepted his proposal.
The result is a work which few orthodox rabbis would be able or willing to write these days when much good writing is being produced on Jewish subjects, but few orthodox authors have a historical sense about the development of Judaism and fewer would dare apply academic criteria to the subject.
The task needed an Epstein. No-one could question his orthodoxy or question his Talmudic learning. He was the editor of the Soncino translation of the Talmud, and though Soncino is overshadowed by later works its editor was already a Talmudical prodigy as a youth. His mind could play with a Talmudical sugya because he knew the material inside out (when I once wrote that Dr Epstein had the reputation of knowing the whole Talmud by heart, Mrs Epstein retorted, "It wasn't just a reputation: it was true!").
How could Epstein write historically and still be orthodox?
He espoused a Judaism which, he wrote, "while it seeks the help of all that is best and constructive in modern scientific research and study, refuses to be bludgeoned into the acceptance of the often conflicting theories of the critical schools which, in the last analysis, are found to be based on highly subjective judgments, false premises and unproved suppositions".
Epstein had rabbinic ordination from Rabbi Isaiah Silberstein of Vacz and from Rav Kook; he held two doctorates from London University and was a man of scrupulous intellectual honesty. He lived a strictly halachic life; he was also a modern man with wide general culture. He could discuss Jewish law – and secular; he was at home with the intricacies of Hebrew and Aramaic – and a sheaf of European languages. He expounded Maimonides and Yehudah Halevi – and he had a television. He knew no dichotomies.
He was my teacher at Jews' college and my unterfuhrer when I got married. If I walked home with him, I could hardly keep up with his pace. My wife and I would go to his house for Seder. He sometimes delegated a speaking engagement to me though I obviously lacked what Chief Rabbi Hertz called his "quite extraordinary erudition". My copy of "Judaism: A Historical Presentation" is autographed by him. Not that this is the only Epstein book I reassure.
Cecil Roth divided Epstein's literary works into three periods. The first produced pioneering works of rabbinic scholarship, especially in responsa as historical source material. In the second he edited the Talmud translation. In the third came his standard works on Jewish ethics, philosophy and history.
His literary output reached such proportions that he could not recall all that he had written when a bibliography was being compiled on his retirement.
Epstein's works should be on the bookshelf of any cultured Jew. His "Judaism: A Historical Presentation" should be sought out, valued and consulted by every serious scholar of Judaism.
See also:
– Rabbi Dr. Isidore Epstein – a tribute
– Isidore Epstein & the strengthening of faith
– Remembering Dr. Isidore Epstein, Jewish philosopher and thinker