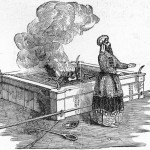 One of the first rules we encounter when we read this sidra, which introduces the laws of the sacrifices, is: "He shall stretch out his hand on the head of the burnt offering… and (then) he shall sacrifice the calf" (Lev. 1:4-5).
This teaches us that the mitzvah cannot be carried out unless it is prepared for. Without the stretching out of the hands over the animal there can be no sacrifice.
Similarly every mitzvah requires its preparatory process. Without preparation there is no Shabbat, no Pesach, no Sukkot – not just physical and domestic preparation but spiritual and intellectual.
The words, the ideas, the aspirations, the emotional dedication, all have to play their part or else the mitzvah will lack meaning.