Address by Rabbi Raymond Apple at the official NSW commemoration marking the passing of Israeli Prime Minister, Yitzhak Rabin, at the Great Synagogue, Sydney, 7 November 1995.
Present were some 3,000 people, including the NSW State Governor, the Acting Prime Minister, the Lord Mayor of Sydney, political, religious and public figures, and leaders and members of the Jewish community and the general public.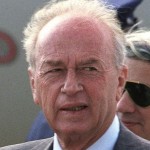 Jewish history has been moulded by a panoply of legendary leaders. Amongst them are the giants of modern Israeli history. They include David Ben Gurion, Chaim Weizmann, Golda Meir, Moshe Dayan and Menachem Begin – all different, but all the same in their unrelenting vision and indomitable spirit. They were legends in their lifetime, and after their death they are secure in the mindset of the Israeli people and of Jews everywhere.
Yitzhak Rabin has been a legend for many years. Now, because of the events of last weekend, he has become not merely a legend but a martyr.
The books of Jewish wisdom say, "It is not your duty to complete the task, but neither are you free to desist from it." But Rabin is not the only great Jewish figure who could not complete the task. So many came tantalisingly close to their promised land but found the final fulfilment snatched from their grasp. Especially Moses. For so long he struggled for his people, strove with them, argued with them and was the flag they followed.
Though his eyesight had not dimmed, not his energy abated, he died with a Divine kiss and the Almighty Himself brought him to his burial place. But the last book of the Torah was incomplete. Who then wrote the final eight verses? Maybe God dictated the words and Moses wept as he wrote of his own death and how Israel mourned for him. Perhaps others took up the pen and completed the last eight verses for him.
Rabin was not Moses. He did not have the luxury of a quiet death. He was not a poetic soul nor a passionate orator. But he too struggled for his people, strove with them, and was moulded by experiences that gave him moral power and credibility.
Moses was not a warrior; Rabin was a fighter who became peacemaker. But now others will have to write his last eight verses and complete his work.
The whole world is shocked at the circumstances of his death. We are shattered to think anyone could believe in weapons instead of words, destruction instead of debate. That an assassin could claim that God ordered him to kill is monstrous. Judaism says the absolute opposite. God does not order murder. He prohibits it. He proclaims the sanctity of human life, all human life. And it is not only the Jewish God who prohibits murder. It is also the Christian God and the Moslem God.
Whoever one is, murder is the ultimate cowardice. Unable or afraid to use the democratic means of dissent, debate and peaceful persuasion, the murderer takes the easy way and imagines himself a martyr. Thank God very few Jews ever stoop so low.
In his death, Rabin may achieve what so far eluded him. He may succeed in restoring debate on government policies to a more civilised level, with strident rhetoric toned down and wild personal accusations abandoned. He may succeed in uniting his people behind the peace process, whatever changes in style there will possibly now be. He may succeed in convincing nations that are playing hard to get that one can always be overtaken by events and no-one has a guarantee about tomorrow.
The peace process will continue because it is a necessity for all the peoples of the region and for the stability of the world. Not only for pragmatic reasons of security and economic and cultural expedience. Morally, peace is necessary, because people who believe in God have to recognise their shared humanity.
Why are Jews everywhere so concerned for Israel and its welfare? Because Israel is family, metaphorically and literally. Because Israel is Biblical prophecy come true, and the restoration of the people of Israel to its land is indispensable to Judaism. Because the world will find moral salvation when, as the prophets say, the nations will come up to Jerusalem and moral teaching will issue from Zion.
That Israel has not yet completely become the model society of the prophets' dreams, that it may have wrongs as well as rights on its record, is what motivated Rabin and countless ordinary Israelis to move towards the future.
Rabin, the old soldier, died with his boots on. President Clinton said, Shalom, Chaver – "Goodbye, friend!" We, this great assembly of Sydney Jewry and fellow Australians, say, "Yitzhak, go in peace; may your memory be a blessing!"