Address by Rt. Wor. Bro. Rabbi Dr Raymond Apple, AO RFD, Past Deputy Grand Master of the United Grand Lodge of New South Wales & the Australian Capital Territory, to the United Grand Lodge of Queensland, 18 November 2001.
What a resplendent occasion this is. I am honoured to have been invited to be here and give the address, and to attempt to put into words what needs to be said this morning.
It has been quite a year. It began with pomp and parades, ceremony and celebration. Everywhere in Australia we rejoiced in our achievements as a nation, and in ourselves and our fellow Australians.
It is true that even then there were some mutterings, probably valid, about the rhetoric being something of a whitewash of certain grubby spots on our national record, but even the gripes were good-humoured, and for months we all remained in a good mood.
Then everything changed. I recalled the president of an organisation for which I once worked, who every year at the annual general meeting would stand up and say, "Ladies and gentlemen, it has been a very difficult year!" This is what happened as the last few months arrived – ladies and gentlemen, it became a very difficult year!
Suddenly, New York and Washington, so often the subjects of suspense thrillers, heard a real "Mayday" call. In the movies, Superman would come through the skies and all would be well. But 11 September, 2001, was no movie. Superman did not arrive, tragedy piled upon tragedy, and the fallout was felt everywhere.
To say it dampened what was left of the party spirit in Australia is an understatement. By now the centenary of Federation is almost forgotten. Australia was not directly attacked, but terrorism knows no boundaries, and Australia is part of the global response.
We are committed to the military campaign. The targets are the purveyors of terrorism as well as the rulers, regimes and states that train, harbour, fund and fuel them.
But crises have to be handled in a multi-faceted fashion, and the various strands that come together in the service of which we are part this morning all point in the direction of a further response that we as ethical Australians and dedicated Freemasons are uniquely equipped to offer.
Australia as a nation believes in finding the decent answer to a problem. Freemasonry as a movement believes in being a brother, a brother who cares. Today Australia and Freemasonry rightly, happily, join forces to reaffirm these two fundamental commitments.
A true story: at a military base a young Protestant soldier urgently needed the help of a chaplain. But the Protestant chaplain was on leave, so the Roman Catholic chaplain went to see the young man. The soldier was apprehensive. He said, "Father, I appreciate your visit, but I am a Protestant. I hope you won't try to change my faith!"
The Catholic chaplain said with a smile, "Son, I don't want to change your faith. I want your faith to change you!"
When people really have faith in what they say they believe, their faith can transform them and affect the whole course of history.
What do we as Australians need to change? Our laid-back attitude, our feeling, "She'll be right, mate!" We have had our problems as a nation, but on the whole we have had an easy run – not simply since 1901, but from the beginning. Now there are manifestations that we cannot brush aside – prejudices imported from elsewhere, racist leanings that feed on fear of change, selfish attitudes that imply that no-one else matters, inherited indifference to the original Australians. She won't be right, mate, until we do what the Bible says, gird our loins and take seriously our vaunted decency ethic.
What do we as Freemasons need to change? Our often merely ritual passing nod to our official ideal of brotherhood. Whatever our numbers, and they're not what they were, our problem is not in numbers: it's in commitment – meaning it when we call another "Brother", and seeing every fellow human being as a brother or sister whose pain is our pain, whose joy is our joy, whose destiny is bound up with our own.
Some people are saying that what happened on 11 September was something that America had coming to it. But what did happen that day?
Without warning, without redress, without deserving even a tenth of it, thousands of Americans and people of other nationalities, including Australians, were ruthlessly attacked and annihilated, in so many cases not leaving even a trace of DNA to identify who they were and what happened in their last moments. Families, friends, business and professional associates shattered, great cities devastated, a nation plunged into shock, mourning and despair…
Is this a way to say you don't agree with American policies? This is the coward's way. And if any movement represents the antidote, it is Freemasonry. For Freemasonry says, "Brother, I am not sure I always agree with your views, with the values you espouse or the way you do business – but Brother, we have the same Father: can't we sit and talk?
I have a brother-in-law in Israel who once sent me an ingenious present – a ball-point pen made out of a spent bullet case. He had engraved on it in Hebrew the words of the prophet, "They shall beat their swords into ploughshares". In Hebrew it is especially clever, because "ploughshares" is ittim, and, with the change of a consonant, "pens" are also ittim. Pens instead of bullets, words instead of weapons – a fair exchange.
No-one can be certain of the real motives of those who masterminded 11 September. They and their henchmen probably talk about particular American commitments and utilise particular religious passions in order to minimise the cruelty and callousness of their defiance of humanity. The media, not widely known for balanced analysis of facts and factors, find it all very exciting, and oscillate between tendentious verbal propaganda and untruthful captions of sensational picture images.
We for our part know one thing quite clearly – that none of this is going to help to keep civilisation alive, clean and constructive.
What is going to help is for Australia and every nation to encourage ever more clusters of citizens who, like Freemasons, will not waver from their championship of decency and brotherhood.
It would be nice for Australia to have more Freemasons, and now that the movement is working on the challenge it will slowly occur. Not merely because we have room for more members, but because what we represent is good for a nation such as Australia for, as it has been said, "Never doubt that a small group of thoughtful, committed citizens can change the world; indeed, it is the only thing that ever has."
The presumably small group of villains of 11 September think they have changed the world. We know better. The world will change, and for the better, when groups like ours live sincerely by our principles and our light radiates, our warmth benefits others, our smile brings happiness.
We Freemasons celebrate ourselves this morning. We rejoice that we are Australians. We thank God for our lot. We thank Him for our task our challenge, and our opportunity.
Ladies and gentlemen, as my erstwhile president used to say, it has been a very difficult year. But difficult years pass with all their agonies, and new ones begin with their blessings!
For more articles on Freemasonic issues by Rt. Wor. Bro. Rabbi Dr Raymond Apple, AO RFD, visit his Freemasonry webpage.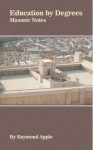 EDUCATION BY DEGREES: MASONIC NOTES
Rt. Wor. Bro. Rabbi Dr Raymond Apple's book on the history, symbolism and teachings of Freemasonry, enlivened with personal reminiscences and humour.
Order the paperback or Kindle edition from Amazon or the paperback from The Book Depository to receive free shipping. Selections from the book can be previewed on Google Books.