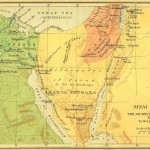 The fourth Book of the Chumash ends with a travelogue.
Moses and the Children of Israel were on the move between Egypt and the Promised Land for 40 years, stopping for a while at one encampment and starting off again in order to move further. Each move took time because it was a large crowd.
There were 42 stopping places all told. The numerical value of 42 is bet-mem, making the Hebrew word bam, "in them".
When the people reached the Land they must have reminisced about the time they spent "in them" – about the places where the shade was more plentiful, those where food and water were easier, those where the children could run around and be children.
A similar procedure is followed by anyone who is on the move, whether it be flight from a dangerous place, migration to a new home, or simply a holiday trip to refresh one's mind and body.
In one sense or another, we all learn something from everywhere we are.
Once upon a time our holidays were scrupulously recorded on film and we probably bored everyone else by showing them our slides or movie films.
Maybe we don't do that any more, but in our own minds we ought to be able to enhance our thinking by recalling everywhere we have been.
It is not only whether the hotels were air-conditioned and the swimming pools pleasant, whether we found good places to eat and secluded places to relax, but the cultural dimensions of who we met and where we spent time.
The sages say, "The disciples of the wise have no rest either in this world or in the next".
Wise people take holidays for a rest but should keep their minds and hearts open for experiences that mould the personality.