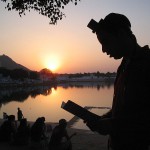 We all know that prayer can be offered anywhere, but Judaism believes nonetheless that it is good to have a fixed place to pray (Ber. 6b, 7b).
We find this in Abraham's case when the destruction of Sodom and Gomorrah was imminent and Abraham kept praying, though in this case with little success. "And Abraham rose early in the morning," says the Torah, "to the place where he had stood before the Lord" (Gen. 19:27).
He could have gone to pray anywhere, but he made a point of going to a familiar spot. The surroundings he was used to helped him to pray more effectively.
Even someone like Rabbi Akiva who moved around during worship probably did so within the confines of a familiar room: Rabbi Akiva would begin to pray in one corner and before long find himself in the opposite corner (Ber. 31a).
Most of us not only prefer our own familiar room or synagogue but have our favourite corner there, and generally, unlike Rabbi Akiva, we do not budge from it.
A fixed place lacks distractions and it does not tempt us to look around and investigate our surroundings.
True, there is a tradition that certain parts of the synagogue are more desirable than others, especially the eastern wall (the Mizrachwand). But it really should not matter at all.
Wherever we feel most at home during prayer is the most desirable place for us, and indeed once we have begun to pray with kavvanah we are not even aware of where we are.
Our earthly surroundings vanish; we rise above them, we are spiritually transported into a different realm.
There is an analogy in the famous story about the Rabbi of Nemirov; "Where is the rabbi on the days when Selichot are recited?", his disciples asked.
Some said, "In Heaven, of course!"
But those who really knew said, "In Heaven? If not even higher!"
None of us is the Rabbi of Nemirov, but when we daven sincerely we too are in Heaven… if not even higher!