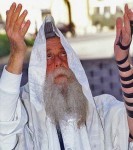 There are weeks to go before the Holydays. There is plenty of time. Who needs to be concerned with Rosh HaShanah, Yom Kippur, Sukkot or Simchat Torah so early?
One answer is that anyone involved in synagogue administration needs to be thinking about, planning and organising the Holyday services.
In many places this process begins the moment Pesach is over. There is so much to be done, so many things to be put into place, so many lists to prepare. There's not a moment to lose!
The chazanim need to study the prayer book, the rabbis to prepare their d'rashot, the administrators to co-ordinate everything; the cleaners to spruce up the synagogue seats. Time is running short!
And the rest of us? We aren't under any pressure. We have time! Or do we?
Perhaps our agenda for these weeks is also a lead-up. Less silly errors, less wounding words, more good deeds, more thought of prayer and penitence, certainly more charity.
"Prepare to meet your God, O Israel!" says Amos (4:12). We have work to do!