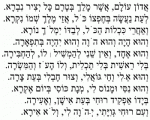 Q. How is it that Adon Olam seems to have two parts – one philosophical and one emotional?
A. Adon Olam sums up the two approaches to God. One is with the mind, the other with the heart.
The first approach articulates our perception of God's uniqueness and eternity, the second our confidence that His love and concern protect us at all times, both when we are asleep and when we wake, both in this life on earth and in the life of the World to Come.