Q. Which is more important for a new community to establish – a synagogue or a cemetery?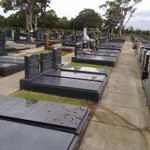 A. Which is more important? Both.
Let me quote myself. I have consecrated a number of synagogues in my time, and also a number of cemeteries.
When it was a cemetery I was consecrating, I always congratulated the community and said it was a sign of life when a group needed a cemetery.
It showed that they regarded themselves as so firmly established in a place that they expected to do there all the normal things that are part of life, including dying and being laid to rest in a location which relatives and friends would visit in time to come.
There are many kinds of Jews, A Jews, B Jews, C Jews, D Jews and E Jews. The B Jew is concerned with burial as a Jew.
We need A Jews too, alert to Jewish thinking, C Jews, committed to Jewish living, D Jews, dedicated to Jewish causes, E Jews, enlightened and educated about Judaism and the Jewish heritage.
Worry about dying as a Jew, but don't forget to live as a Jew too.