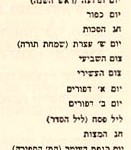 The sidra lists the festivals and sets out their laws. So authoritative is this material that it provides the maftir for every one of the chaggim, including Shabbat Rosh Chodesh.
But this sidra is read at a time of year which is the opposite of festive, during the Three Weeks between the fasts of Tammuz and Av. The mood of the moment is somber because we recall so many tragedies that occurred at this time of year, and yet it is precisely then that we read all about occasions of joy!
Levi Yitzchak of Berditchev wondered aloud why we let joy intrude on our sadness and sadness intrude on our joy.
He decided the answer was that if we limited ourselves to the sadness we might feel there would never be light at the end of the tunnel. If we limited ourselves to the joy we might feel life was all light and no shade.
The mixture of emotions was a good idea. It showed us what life really was – an emotional kaleidoscope with its tragedies as well as its triumphs, its agonies as well as its ecstasies.
It is a lesson we particularly need at this moment. We are disturbed by serious events in Israel and elsewhere and wonder if we will ever come through smiling. At the same time we see more Jews choosing to learn and live more Judaism than ever before.
The supposedly good old days when our great-grandparents were alive were in some ways less significant than today because then there were internal and external social pressures that kept them Jewish, whereas today in a voluntary society it is our own choice to commit ourselves to Judaism.
But in case we thought that everything was bound to continue on the up and up, we need to be reminded that not everything in the garden of Jewish identity is colour and joy. Being alive is never all light and never all shade. Being Jewish is never all glad and never all sad.