Q. I learned that the Second Temple was destroyed on 10 Av. Why then do we commemorate the destruction on 9 Av?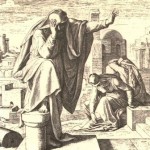 A. According to the Second Book of Kings (25:8-10), the Temple was burnt and the walls of Jerusalem razed on 7 Av. Jeremiah (52:12) says it was 10 Av.
When the Talmud discusses the date (Ta'anit 29a) it suggests the following reconciliation: "On the 7th day the heathens entered the Temple and ate in it and continued to desecrate it throughout the 7th and 8th of the month; towards dusk on the 9th day they set fire to the Sanctuary and it continued to burn the whole of that day".
The view of Rabbi Yochanan is, "If had lived in that generation I would have chosen 10 Av for the mourning because the majority of the Temple was burnt on that day."
The Talmud responds that the 9th was chosen because the beginning of a tragedy is what should be marked. It adds that 9 Av saw such a succession of other catastrophes that the day seems to have an uncanny capacity to attract calamity. In time to come the same day will be a time of rejoicing and whoever shared in the mourning will share in the joy (Rosh HaShanah 18b).
Halachically, the mourning practices of the Nine Days leading up to Tishah B'Av continue until midday on 10 Av.
Josephus, an unreliable historian at best, asserts that it was the Jews themselves who set fire to the Temple, since "God had for certain long ago doomed it to the fire".
Since the first Temple was understood as having been destroyed by the king of Babylon on 9 Av, says Josephus, the second Temple met its fate on the same day as Divine punishment and as retribution for rebelling against the Roman regime (Wars of the Jews VI:4).