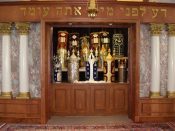 Q.Why do synagogues often inscribe over the Ark the words, Da Lifnei Mi Attah Omed, "Know before Whom you stand"? Where do these words come from?
A. There are several versions of this Hebrew sentence. In the plural it is found in the Talmud (B'rachot 28b).
It admonishes us to conduct ourselves properly in the synagogue and not to become so relaxed as to chatter, walk up and down and laugh and joke, forgetful of the reverence of the place and the moment.
From the spiritual point of view, it tells us that if we open our hearts, souls and minds to Him, we feel His presence – in the synagogue and everywhere else.
Maybe this is an answer to those who say they sense God better at the sea or in a garden than they do in the synagogue.
God is certainly to be found in places where we breathe the air and sense the grandeur of Creation, but there is no reason not to find Him amidst the sounds of prayer and Torah study.
"Know before Whom you stand" is a good principle for the synagogue, but it applies outside and beyond it too.
Abraham Joshua Heschel explains in his "Between God and Man" that wherever we go we must cultivate the art of awareness of God. We learn this in worship, but not only in worship.
To worship properly, says Heschel, is to expand the presence of God in the world. When we say, "Blessed be He", we extend His glory.
When we say the Kaddish – yitgaddal v'yitkaddash sh'mey rabba b'alma – "Magnified and sanctified be His great name in the world", we imply, "May there be more of God in His world".
To know that we stand before God wherever we may be is to rise to a higher level of living.