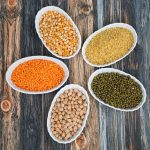 Kitniyot, "the little things", are excluded from the Ashkenazi diet on Pesach because they are thought to resemble the grains which we call chametz.
In a broader sense, the observance of Pesach and indeed the whole of Judaism requires close attention to the little things.
The Torah devotes many chapters to little things, insisting that it can never be enough to assert broad principles without the detailed bricks that make up the whole edifice.
The Talmud makes this clear when it speaks of carrying out the search for chametz by the light of a candle (Pes. 7b/8a), enabling us to find the littlest pieces of chametz.
On Pesach little pieces can make a difference. On Shabbat little actions can have an effect. In kashrut, small things matter.
In the spiritual and ethical life, little deeds cannot be ignored.