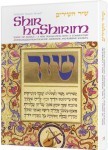 The Shabbat of Pesach is marked by the reading of Shir HaShirim, the Song of Songs. It's one of the finest pieces of poetry that we possess.
The poem has two main interpretations – literalist (seeing it as a human love story, perhaps a wedding song) and allegorical (showing the love between God and Israel).
Jewish tradition as depicted in the Midrash prefers the allegorical view. It sees the emotional, romantic content of the verses as depicting the spiritual yearning of the people of Israel for God, and God's yearning for them. Hence when the Book says, "Set me as a seal upon your heart, as a seal upon your arm" (8:6), it symbolises the idea, "I am my Beloved's and my Beloved is mine" (2:16, 6:3).
The origin of the symbol may be that of sealing or stamping an article with a mark of identity or ownership.
God and Israel are intertwined to the end of time, even though they have moments when they despair of the other's loyalty and are tempted to repudiate one another. Yet in the end they cannot live without one another and nothing can break the bond of love (8:7).