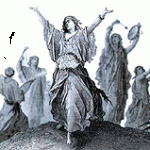 15 Av used to be an important day. For centuries no-one has heard of it. In the standard books on the festivals it does not even rate a mention.
Yet the Mishnah reports, "There were no happier days for Israel than 15 Av and Yom Kippur, for on them the daughters of Jerusalem used to go forth in white garments… The daughters of Jerusalem went forth to dance in the vineyards.
"What did they say? 'Young man, lift up your eyes and see what you would choose for yourself. Set not your eyes on beauty, but set your eyes on family…'" (Ta'anit 4:8).
Leaving aside for the present the reference to Yom Kippur, it is clear that 15 Av was a midsummer moment (some translators call it the Youth Festival) when marriages were made. Not all the maidens could have been beautiful, hence the advice to look for lineage rather than looks.
In their own way the shadchanim of later centuries followed a similar approach, urging prospective bridegrooms not to think that appearance is everything.
Today there is an additional problem in that some singles find wonderful partners (without the help of shadchanut) but are reluctant to commit to marriage. They need to be reminded of the old rabbinic notion that when Adam complained that God had robbed him of his rib in order to create Eve, the Divine reply was, "But think how much more you have gained in place of your rib!"
The person who cannot commit may be afraid that they will be robbed of their independence, but think how much more they would gain if they acquired a loving, supportive partner for life and in due course a family to enrich the relationship.